INTERPRETASI STRUKTUR GEOLOGI BAWAH PERMUKAAN DAERAH LEUWIDAMAR BERDASARKAN ANALISIS SPEKTRAL DATA GAYA BERAT
Abstract
Kajian analisis data gayaberat daerah Leuwidamar, Banten telah dilakukan menggunakan metode analisis spektral.Tujuannya adalah memperkirakan kedalaman batuan alas dan menginterpretasi model geologi bawah permukaan. Metode gayaberat dilakukan beralaskan anomali gayaberat yang muncul karena adanya variasi rapat massa dari penyusun material bawah permukaan bumi. Hasil analisis spektral menunjukkan dua nilai kedalaman dengan rata-rata 1,71 km yang merefleksikan kedalaman batuan alas dan 10,66 km yang mencerminkan kedalaman kerak. Berdasarkan pemodelan dua dimensi bawah permukaan diperkirakan batuan alas daerah Leuwidamar adalah andesit yang memiliki densitas sebesar 2,74 g/cc. Evolusi tektonik menyebabkan terbentuknya sesar bawah permukaan dan batuan terobosan seperti granodiorit Cihara yang memiliki densitas 2,68 g/cc di bagian selatan Leuwidamar.

Kata kunci : Leuwidamar, gayaberat, analisis spektral
Downloads
Download data is not yet available.
References
Bemmelen, R.W. van, 1949, The Geology of Indonesia, Vol. I A, Govt. Print. Office, The Hague, 732 p.
Indriana, Dwi Rina. 2008. Estimasi Ketebalan Sedimen dan Kedalaman Diskontinuitas Mohorovicic Deerah Jawa Timur dengan Analisis Power Spektrum Data Anomali Gravitasi. Berkala Fisika. Vol. 11 , No.2: 67-74.
Nasution, J. dan Tasno, D.P., 1990, Peta Anomali Bouguer Lembar Leuwidamar Jawa, Pusat Penelitian dan Pengembangan Geologi, Bandung.
Setiadi, I., Setyanta, B., Widijono, B.S. 2010. Delinasi Cekungan Sedimen Sumatera Selatan Beralaskan Analisa Data Gayaberat. . Jurnal Sumber Daya Geologi Vol. 20 No. 2: 93-106.
Sujatmiko dan Santosa. 1992. Peta Geologi Lembar Leuwidamar, Jawa, skala 1:100.000, Peta Geologi Bersistem Indonesia. Pusat Penelitian dan Pengembangan Geologi, Bandung.
Talwani, M. 1959. Rapid Gravity Computations for Two-Dimensional Bodies with Application to the Mendocino Submarine Fracture Zone. New York : Columbia University.
Walidah dan Fitriana I. 2011. Penentuan Struktur Bawah Permukaan Beralaskan Analisa dan Pemodelan Gayaberat untuk Melihat Potensi Hidrokarbon pada Daerah FW1807 Cekungan Jawa Timur Utara. Skripsi pada FMIPA Universitas Pendidikan Indonesia Depok: tidak diterbitkan.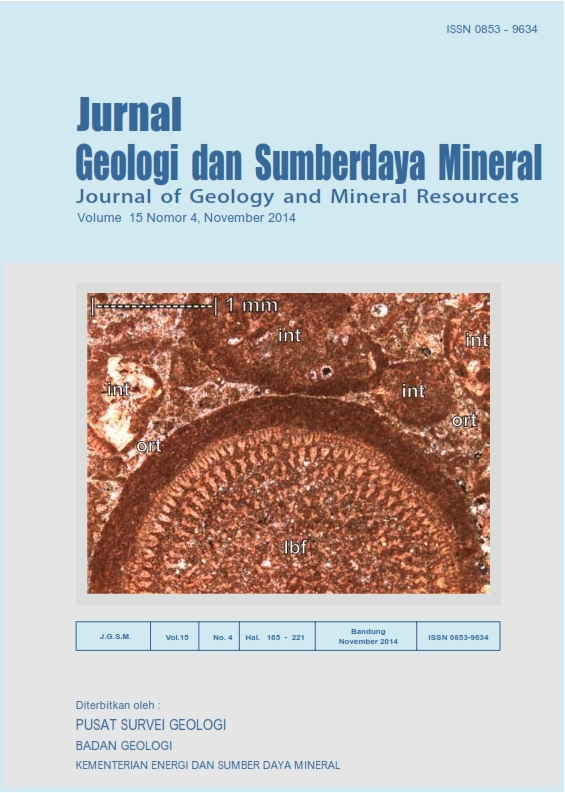 Downloads
License
Authors who publish articles in Jurnal Geologi dan Sumberdaya Mineral (JGSM.Geologi) agree to the following terms:
Authors retain copyright of the article and grant the journal right of first publication with the work simultaneously licensed under a CC-BY-NC or The Creative Commons Attribution–ShareAlike License.
Authors are able to enter into separate, additional contractual arrangements for the non-exclusive distribution of the journal's published version of the work (e.g., post it to an institutional repository or publish it in a book), with an acknowledgment of its initial publication in this journal.
Authors are permitted and encouraged to post their work online (e.g., in institutional repositories or on their website) prior to and during the submission process, as it can lead to productive exchanges, as well as earlier and greater citation of published work (See The Effect of Open Access)