PENGARUH TEKTONIK REGIONAL TERHADAP POLA STRUKTUR DAN TEKTONIK PULAU JAWA
Abstract
Sebagai akibat dari perubahan posisi tunjaman di Indonesia bagian barat berimplikasi pada perubahan pola struktur dan tektonik di Pulau Jawa. Pada akhir Paleogen, Jawa bagian tengah, barat dan Laut Jawa kegiatan tektonik dan magmatik tidak aktif lagi alias stabil. Pada waktu itu daerah tersebut menyatu dengan subkontinen yang meliputi sebagian besar Sumatera dan seluruh Semenanjung Malaya. Fisiografi Laut Jawa dicirikan oleh pola kelurusan morfologi dan struktur berarah timurlaut-baratdaya, dan terdapat struktur berarah utara-selatan yang ditunjukkan oleh adanya sesar mendatar menganan di Selat Sunda, antara Jawa dan Sumatera. Arah ini diduga berasal dari fenomena pada kerak benua, dan pembentukannya mungkin berkaitan dengan penekukan arah tektonik utama di Sumatera ke sumbu Pulau Jawa, sehingga umurnya diduga lebih tua dari arah struktur yang pertama. Mulai Eosen Awal hingga Miosen Awal terjadi pemekaran Selat Makassar sebagai akibat mendekatnya kerak benua Australia. Peristiwa ini menyebabkan berkurangnya laju gerakan lempeng Indo-Australia sehingga terjadi perubahan arah pola struktur / tektonik di Jawa dari baratdaya-timurlaut pada Paleogen, menjadi berarah barat-timur pada Neogen.

Kata kunci: struktur, tektonik, Jawa, Paleogen, Neogen
Downloads
Download data is not yet available.
References
Djuri, 1975. Peta Geologi Lembar Purwokerto dan Tegal, skala 1 : 100.000. Direktorat Geologi, Bandung.
Hamilton, W., 1979. Tectonics of The Indonesian Re­gion, Geological Survey Professional Paper 1078, Washington.
Hamilton, W., 1989. Convergent-Plate Tectonics Viewed from the Indonesian Region. Geol. Indon. v.12, n.1: 35-88.
Katili, J., 1978. Past and present geotektonic position of Sulawesi, Indonesia. Tectonophysics, 45: 289-322.
Katili, J., 1989. Evolution of the Southeast Asian Arc Complex. Geo.Indon. v.12, n.1: 113-143.
Minster, J.B. and Jordan, T.H., 1978. Present day plate motion. Geophysicsal Research, 83: 5331-5334.
Pulunggono, A. dan Martodjojo, S., 1994. Perubahan tektonik Paleogen – Neogen merupakan peristiwa terpenting di Jawa. Proccedings Geologi dan Geotektonik Pulau Jawa: 37-50.
Simandjuntak, T.O. & Barber, A.J., 1996. Contrasing tectonic style in the Neogene orogenic belts of Indonesia, in: Tectonic Evolution of Southeast Asia, eds. Hall & Blundell, Geological Society Spec. Publ. No. 106: 185-201.
Sudradjat, A.,2007. Analisis Geologi Regional. Bahan Kuliah Program Pasca Sarjana, MIPA UNPAD, tidak terbit.
Soeria-atmadja, R., Bellon, R.C., Pringgoprawiro, H., Polve, M. Dan Priadi, B., 1994. Tertiary magmatic belt in Java, J. SE Sci., v.9, n.1-2: 13-27.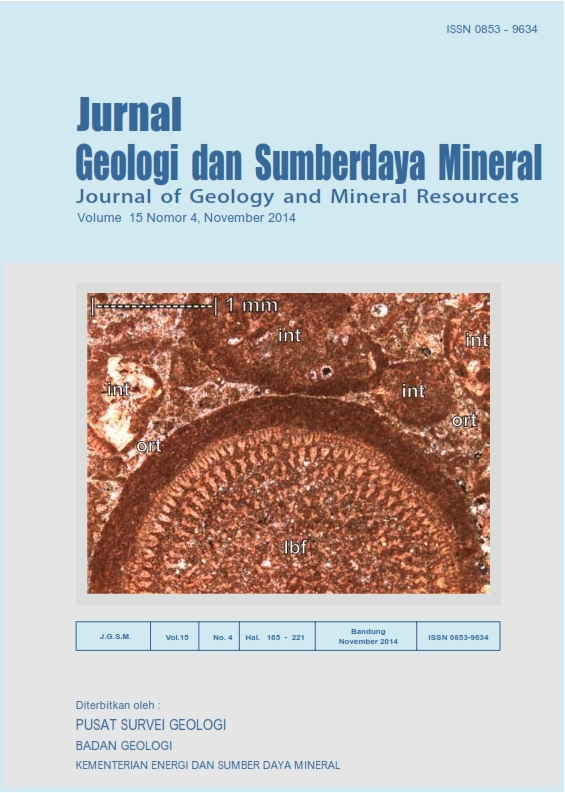 Downloads
License
Authors who publish articles in Jurnal Geologi dan Sumberdaya Mineral (JGSM.Geologi) agree to the following terms:
Authors retain copyright of the article and grant the journal right of first publication with the work simultaneously licensed under a CC-BY-NC or The Creative Commons Attribution–ShareAlike License.
Authors are able to enter into separate, additional contractual arrangements for the non-exclusive distribution of the journal's published version of the work (e.g., post it to an institutional repository or publish it in a book), with an acknowledgment of its initial publication in this journal.
Authors are permitted and encouraged to post their work online (e.g., in institutional repositories or on their website) prior to and during the submission process, as it can lead to productive exchanges, as well as earlier and greater citation of published work (See The Effect of Open Access)