PENSESARAN MENDATAR DAN ZONA TUNJAMAN AKTIF DI SULAWESI: HUBUNGANNYA DENGAN KEGEMPAAN
Abstract
Di daerah Sulawesi, disamping dijumpai beberapa sesar regional aktif, juga dijumpai tunjaman aktif. Keberadaan tunjaman aktif ini dapat memicu terjadinya aktifitas pada sesar-sesar tersebut, sehingga menimbulkan gempa-bumi. Sesar-sesar aktif yang merupakan zone sumber gempa tersebut antara lain adalah Sesar Palu-Koro dan Sesar Walanae di Sulawesi bagian barat, Sesar Matano dan Sesar Lawanopo di Sulawesi bagian timur, serta Sesar Gorontalo di Sulawesi bagian utara. Secara keseluruhan sesar-sesar yang merupakan zone sumber gempabumi tersebut adalah sesar-sesar mendatar berskala besar.

Kata kunci : sesar mendatar, tunjaman aktif, Sulawesi, kegempaan.
Downloads
Download data is not yet available.
References
Bachri, S. Dan Baharuddin, 2001. Peta Geologi Lembar Majene – Malunda, Sulawesi, skala 1 : 100.000. Pusat Penelitian dan Pengembangan Geologi, Bandung.
Bachri, S., Ratman, N. & Sukido, 1993. Peta Geologi Lembar Tilamuta, Sulawesi, skala 1:250.000. Pusat Penelitian dan Pengembangan Geologi, Bandung.
Badan Geologi, 2009. Peta Percepatan Puncak Batuan Dasar Wilayah Indonesia Untuk Perioda Ulang Gempa 500 tahun atau 10% Kemungkinan Terjadi Dalam 50 Tahun. Badan Geologi, Bandung.
Hamilton, W., 1979. Tectonics of The Indonesian Re­gion, Geological Survey Professional Paper 1078, Washington.
Hall, R. dan Wilson. M.E.J.,2000. Neogene sutures in eastern Indonesia. Journal of Asian Earth Resources, 18:781-808.
Katili, J.A, 1973. On fitting certain geological and geophysical features of the Indonesian island arc to the new global tectonics in: Coleman, P.J. (editor), The Western Pacific: Island Arcs, Marginal Seas, Geochemistry.
Katili, J, 1978. Past and present geotectonic position of Sulawesi, Indonesia. Tectonophysics, 45: 289-322.
Parkinson, C.D., 1991. The petrology, structure and geologic history of metamorphic rocks of central Sulawesi. Unpublished. Ph.D Thesis, University of London.
Smith, R.B. & Silver, E.A., 1991. Geology of a Miocene collision complex, Buton,eastern Indonesia. Geological Soiety of America Bulletin, 103: 660-678.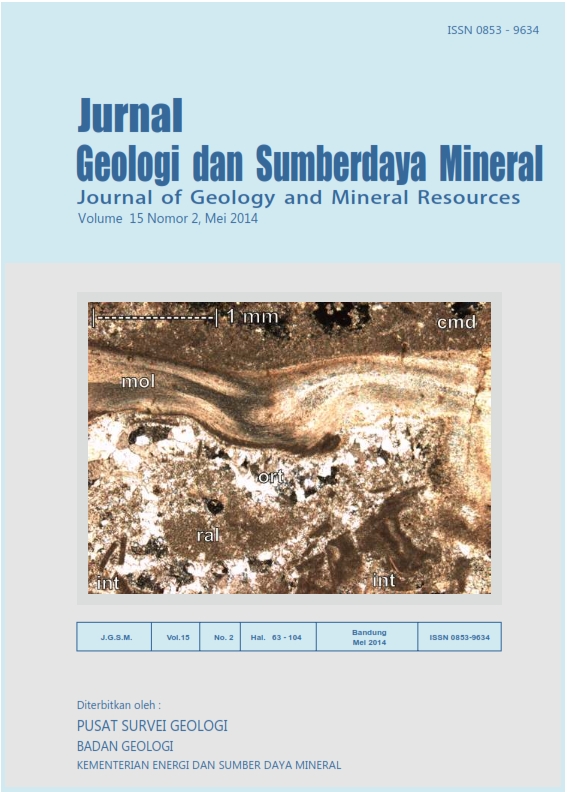 Downloads
License
Authors who publish articles in Jurnal Geologi dan Sumberdaya Mineral (JGSM.Geologi) agree to the following terms:
Authors retain copyright of the article and grant the journal right of first publication with the work simultaneously licensed under a CC-BY-NC or The Creative Commons Attribution–ShareAlike License.
Authors are able to enter into separate, additional contractual arrangements for the non-exclusive distribution of the journal's published version of the work (e.g., post it to an institutional repository or publish it in a book), with an acknowledgment of its initial publication in this journal.
Authors are permitted and encouraged to post their work online (e.g., in institutional repositories or on their website) prior to and during the submission process, as it can lead to productive exchanges, as well as earlier and greater citation of published work (See The Effect of Open Access)