Sedimentologi dan Tektonostratigrafi Formasi Halang di Cekungan Banyumas serta Potensinya untuk Reservoir Hidrokarbon
Abstract
Formasi Halang merupakan formasi yang dikenal dengan struktur turbidit dan diendapkan pada lingkungan laut dalam. Penelitian tentang reservoir Formasi Halang telah ditulis oleh beberapa penulis sebelumnya menyebutkan bahwa porositas batupasir Formasi Halang cukup baik namun diragukan permeabilitasnya, sehingga permasalahan utama reservoir batupasir Formasi Halang di Cekungan Banyumas adalah permeabilitasnya. Metode penelitian yang digunakan meliputi pengukuran penampang stratigrafi di lapangan, analisis dan interpretasi data laboratorium berupa data porositas, permeabilitas dan densitas, yang diintegrasikan dengan data sekunder hasil penelitian sebelumnya. Hasil penelitian menunjukkan bahwa fasies proksimal dan medial Formasi Halang mempunyai potensi sebagai reservoir dan adanya rejim tektonik kompresi pada umur Plio-Plistosen membentuk kekar-kekar pada batupasir sehingga menambah permeabilitasnya. Data sidewall core sumur Karang Gedang-1 juga menunjukkan masih adanya permeabilitas yang bagus pada batupasir Formasi Halang di bawah permukaan. Data XRMI juga menunjukkan adanya rekahan terbuka sebagian pada kedalaman sekitar 13.000 – 14.000 kaki di bawah permukaan, sehingga kesimpulannya batupasir turbidit Formasi Halang mempunyai potensi sebagai reservoir hidrokarbon di Cekungan Banyumas.

Katakunci: Batupasir, Cekungan Banyumas, Formasi Halang, Reservoir.
Downloads
Download data is not yet available.
References
Bolliger, W. and Ruiter de, P.A.C., 1975. Geology of the South Central Java Offshore Area. Proceeding Indonesian Petroleum Association, Fourth Annual Convention, Jakarta, pp.67-81.
Ernando, Z., Fathoni, A., 2011. Volcanic Reservoir Characterization of Jatibarang Formation Based on an Integrated Study of Petrography, Core, FMI and Well Log. Proceeding of 35th Annual Convention Indonesian Petroleum Association, Jakarta, pp.869-880.
Hayes, M.O., 2005.Wave-Dominated Coasts. In: Schwartz M.L. (eds) Encyclopedia of Coastal Science. Encyclopedia of Earth Science Series. Springer, Dordrecht.
Husein S., Jyalita J., Azis M., 2013. Kendali Stratigrafi dan Struktur Gravitasi pada Rembesan Hidrokarbon Sijenggung, Cekungan Serayu Utara. Proceedings of Seminar Nasional 6th Jurusan Teknik Geologi Fakultas Teknik UGM, Yogyakarta, pp.474-489.
Kastowo, 1975. Peta Geologi Lembar Majenang, Jawa. Direktorat Geologi, Bandung, Indonesia. Laporan tidak diterbitkan.
Kusumastuti, A., Darmoyo, A.B., Suwarlan, W., Sosromihardjo, S.P.C., 1999. The Wunut Field: Pleistocene Volcaniclastic Gas Sands in East Java. Proceeding of Indonesian Petroleum Association, 27th Annual Convention, October 1999, Jakarta, 21p.
Mulhadiyono, 1973. Petroleum Possibilities of the Banyumas Area. Proceedings Indonesian Petroleum Association, second annual convention, Jakarta, pp.121-129.
Noeradi, D., Subroto E.A., Wahono H.E., Hermanto E., and Zaim Y., 2006. Basin Evolution and Hydrocarbon Potential of Majalengka-Bumiayu Transpression Basin, Java Island, Indonesia. AAPG 2006 International Conference and Exhibition, Perth, Australia, 32p.
Pertamina Unit EP-III, 1993. Laporan Akhir Sumur Karanggedang (KRG-1). Laporan internal, Jakarta, 20p.
Purwasatriya, E.B., 2014. Tinjauan Kembali Potensi Hidrokarbon Cekungan Banyumas Berdasarkan Data Geologi dan Data Geofisika. Prosiding Seminar Nasional Kebumian Ke-7, Yogyakarta, pp.293-307.
Purwasatriya, E.B., Surjono, S.S., and Amijaya, H., 2018. New Paradigm to Understanding Turbidite Sediment in Banyumas Basin. 1st International Conference on Material Science and Engineering for Sustainable Rural Development (ICSME-SURE), Purwokerto.
Purwasatriya, E.B., Surjono, S.S., dan Amijaya, H., 2019. Sejarah Geologi Pembentukan Cekungan Banyumas Serta Implikasinya Terhadap Sistem Minyak dan Gas Bumi. Jurnal Dinamika Rekayasa, 15(1): 23-31.
Remy, R.R., 1994. Porosity Reduction and Major Controls on Diagenesis of Cretaceous-Paleocene Volcaniclastic and Arkosic Sandstone, Middle Park Basin, Colorado. Journal of Sedimentary Research, 64(4A): 797-806.
Rodriguez, R.H. and Iswarajati, R., 2006. XRMI Image Log Processing Report. Halliburton AFE, Jakarta, 214p.
Seubert, B.W., 2015. Volcaniclastic Petroleum Systems – Theory and Examples from Indonesia. Proceeding Indonesian Petroleum Association (IPA), Jakarta, 12p.
Sribudiyani, Muchsin, N., Ryacudu, R., Kunto, T., Astono, P., Prasetya, I., Sapiie, B., Asikin, S., Harsolumakso, A.H, and Yulianto, I., 2003. The Collision of East Java Microplate and Its Implication for Hydrocarbon Occurences in the East Java Basin. Proceeding of Indonesian Petroleum Association, 29th annual convention and exhibition, Jakarta, 12p.
Surdam, R.C., Boese, S.W., and Crossey, L.J., 1984. The Chemistry of Secondary Porosity: Part 2, Aspect of Porosity Modification, In: McDonald, D.A. and Surdam, R.C. (eds.). Clastic Diagenesis. AAPG Memoir 37, pp. 127-149.
Ter Haar, C., 1935. Toelichting bij Blad 58 (Boemiajoe), Geologische kaart van Java 1:100.000. Dienst van den Mijnbouw, Nederlandsch-Indie, 1p.
Williams, H. and McBirney, A.R., 1979. Volcanology. Freeman, Cooper & Co, San Francisco, 398p.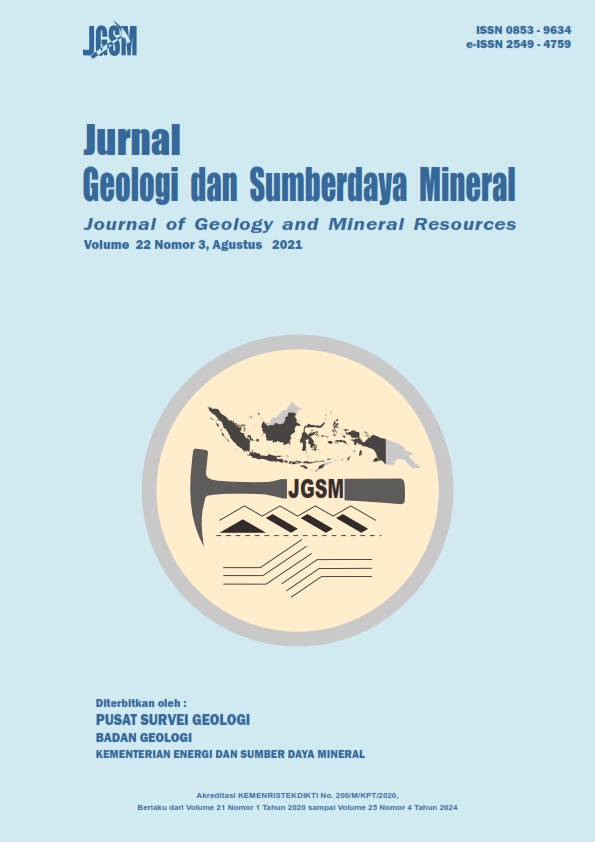 Downloads
License
Authors who publish articles in Jurnal Geologi dan Sumberdaya Mineral (JGSM.Geologi) agree to the following terms:
Authors retain copyright of the article and grant the journal right of first publication with the work simultaneously licensed under a CC-BY-NC or The Creative Commons Attribution–ShareAlike License.
Authors are able to enter into separate, additional contractual arrangements for the non-exclusive distribution of the journal's published version of the work (e.g., post it to an institutional repository or publish it in a book), with an acknowledgment of its initial publication in this journal.
Authors are permitted and encouraged to post their work online (e.g., in institutional repositories or on their website) prior to and during the submission process, as it can lead to productive exchanges, as well as earlier and greater citation of published work (See The Effect of Open Access)