Fasies Sedimentasi dan Elemen Arsitektur Formasi Citalang di Desa Sidamukti, Majalengka, Provinsi Jawa Barat
Abstract
Daerah Majalengka merupakan satu daerah di Jawa Barat yang sangat menarik untuk dilakukan kajian geologi baik yang berkaitan dengan sedimentologi, tektonik maupun paleontologi. Salah satu objek yang menarik untuk dikaji ulang adalah Formasi Citalang, dimana uraian tentang formasi ini masih banyak terdapat perbedaan tentang satuan batuan penyusunnya, umur dan lingkungan pengendapannya. Disini kajian tentang formasi Citalang ditinjau dari sedimentologinya.
Formasi Citalang di daerah penelitian Desa Sidamukti, Kabupaten Majalengka, Provinsi Jawa Barat tersusun atas 6 satuan batuan, yaitu: perselingan batupasir dan konglomerat sisipan tuf, perselingan batupasir dan batulempung, perselingan batupasir dan konglomerat, batupasir sisipan batulanau, perselingan batupasir dan konglomerat dengan sisipan batulanau, serta perselingan batupasir dan batulanau.
Dari pengukuran penampang stratigrafi lintasan terpilih didapatkan 10 litofasies yang secara keseluruhan dijumpai dalam masing-masing satuan batuan, berupa: Fine Mud  (Fm), Fine Silt Mud (Fsm), Massive Sandstone (Sm), Horizontal Sandstone (Sh), Low Angle Cross Lamination Sandstone (Sl), Ripple Cross Lamination Sandstone (Sr), Trough Cross Bed Sandstone (St), Gravel Matrix Supported Graded Bedding (Gmg), Gravel Clast Supported Graded Bedding (Gcg), Gravel Clast Supported Massive (Gcm). Elemen arsitektural yang terbentuk pada sistem pengendapan Formasi Citalang adalah  Gravel Bar and Bedforms (GB), Sandy Bedform (SB), dan Sediment Gravity Flow (SG), yang diinterpretasikan terjadi pada lingkungan pengendapan fluvial berupa sungai teranyam.
Katakunci: Formasi Citalang, elemen arsitektur, fluvial, litofasies, sungai teranyam.
Downloads
Download data is not yet available.
References
Al Hakim, A.F.F, 2021. Geologi dan Studi Sedimentasi Formasi Citalang Daerah Sidamukti dan Sekitarnya, Kecamatan Majalengka, Kab. Majalengka, Jawa Barat, STTMI, Bandung (Tugas Akhir, tidak dipublikasikan).
Djuhaeni dan Martodjojo S., 1989. Stratigrafi Daerah Majalengka dan Hubungannya dengan Tatanama Satuan Litostratigrafi di Cekungan Bogor. Geologi Indonesia, 12(1): 227-252.
Djuri. 1995. Peta Geologi Lembar Arjawinangun, Jawa Barat. Pusat Penelitian dan Pengembangan Geologi, Bandung
Insani, H., Wibowo, U.P., Setiyabudi, E. and Kurniawan, I., 2015. On Variation of Extinct Java Hippopotamuses: A Notefrom a New Finding of Hippopotamidae Fossil from Subang, West Java. Indonesia. Proceedings JCB HAGI-IAGI-IAFMI-IATMI, Balikpapan, Indonesia.
Haryanto, I., Sunardi, E., Sudradjat, A., Haryanto, E.T., 1, Helmi, F., and Firmansyah, D., 2015. Geology Of Pasir Malati, West Java, Indonesia. The 2nd International Converence and the 1st Joint Converence Faculty of Geology Universitas Padjadjaran with Faculty of Science and Natural Resources University Malaysia Sabah.
Martodjojo, S., 1984. Evolusi Cekungan Bogor, Jawa Barat. Disertasi Doktor, ITB, Bandung (tidak dipublikasikan) .
Miall, A.D., 1985. Architectural-Element Analysis: A New Method of Facies Analysis Applied to Fluvial Deposits. Elsevier, 22, 271-272.
Miall, A.D. 1996. The Geology of Fluvial Deposits: Sedimentary Facies, Basin Analysis, and Petroleum Geology. Springer-Verlag Canada, Berlin Heidelberg.
Mutti, E., and Ricci Lucchi, F., 1975.Turbidite Facies and Facies Associations. In: Examples of Turbidite facies and Facies Associations from Selected Formations of the Northern Apennines. Field Trip.
Nichols, G., 2009. Sedimentology and Stratigraphy Second Edition. John Wiley & Sons, Oxford.
Nur Annisa, E. R. dan Rizal, Y., 2021. Studi Fasies dan Elemen Arsitektur Formasi Ranggam di Daerah Belo Laut, Kabupaten Bangka Barat. Bulletin of Geologi, Fakultas Ilmu dan Teknologi Kebumian, 5(2).
Rizal, Y., 2004. Neogene Lithological Formations and Fossil Remains in the Majalengka Area (West Jawa, Indonesia). 18th International Senckenberg Conference, Weimar.
Rizal, Y., Zaim, Y., dan Aswan, 2009. Geologi dan Paleontologi Vertebrata Daerah Jembarwangi dan Sekitarnya Kabupaten Sumedang, Jawa Barat. Buletin Geologi ITB, 39(2): 95-116.
Rizal Y., Pamungkas G.M., and Rudyawan, A., 2016. Sedimentation of the Cantayan Formation in Sirnasari, Bogor, West Java-Indonesia. IJESRT, 5(11): 349-359.
Rizal. Y., Lagona, R., and Santoso, W.D., 2017. Turbidite Facies Study of Halang Formation on Pangkalan River, Karang Duren – Dermaji Village, Banyumas District, Central Java – Indonesia. 2nd Transdisciplinary Research on Environmental Problems in Southeast Asia IOP Publishing, 71: 1-18.
Rizal, Y., and Gumilar, A.R., 2019. The Architectural Element Distribution of Cinambo Formation in Jatigede Area, Sumedang District, West Java – Indonesia. Modern Applied Science, 13(7): 94-106.
Setiadi, D.J., 2001. Fluvial Facies of the Citalang Formation (Pliocene-Early Pleistocene), West Java, Indonesia. Journal of Geosciences, 44: 189-199.
Silitonga, P.H., 1973. Peta Geologi Lembar Bandung, Jawa, skala 1:100.000. Direktorat Geologi, Bandung.
Van Bemmelen, R. W., 1949. The Geology of Indonesia. Martinus Nyhoff, the Haque, Nederland.
Wibowo, U.P., Setiyabudi, E., and Kurniawan, I., 2017. Sebuah Rahang Bawah Stegodon dari Cipanaruban, Subang, Jawa Barat;Deskripsi dan Posisinya dalam Biosostratigrafi Vertebrata Jawa. Jurnal Geologi dan Sumberdaya Mineral, 19(1): 9–14.
Wibowo, U.P., Ferdianto, A., Laili, N., Yurnaldi, D., dan Setiawan, R., 2019. Jejak Hominid di Situs Estuarin Purba Pengandung Fosil Berumur Plistosendi Lembah Cisaar, Sumedang, Jawa Barat. Jurnal Penelitian dan Pengembangan Arkeologi, 8 (2): 65–78.
Walker, R.G., and James, N.P., 1992. Grain Size Distribution and Depositional processes. Journal of Sedimentary Petrology, 39: 107 –1106.
Zaim, Y., dan Marino, R., 2002. Pygmy Stegodon dari Desa Cariang, Kecamatan Tomo, Kabupaten Sumedang, Jawa Barat. Buletin Geologi, Jurusan Teknik Geologi ITB Bandung, 34: 45-52.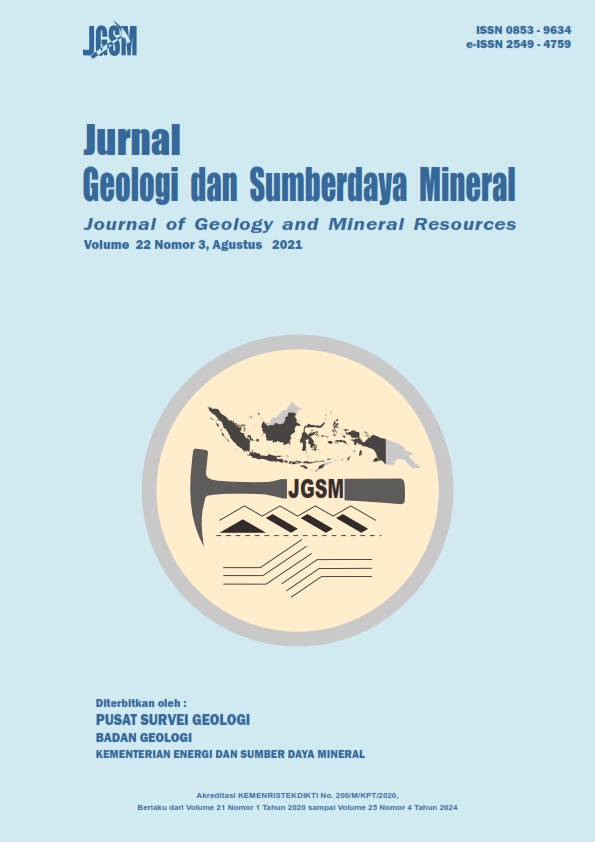 Downloads
License
Authors who publish articles in Jurnal Geologi dan Sumberdaya Mineral (JGSM.Geologi) agree to the following terms:
Authors retain copyright of the article and grant the journal right of first publication with the work simultaneously licensed under a CC-BY-NC or The Creative Commons Attribution–ShareAlike License.
Authors are able to enter into separate, additional contractual arrangements for the non-exclusive distribution of the journal's published version of the work (e.g., post it to an institutional repository or publish it in a book), with an acknowledgment of its initial publication in this journal.
Authors are permitted and encouraged to post their work online (e.g., in institutional repositories or on their website) prior to and during the submission process, as it can lead to productive exchanges, as well as earlier and greater citation of published work (See The Effect of Open Access)