MIKROFASIES DAN DIAGENESIS BATUGAMPING FORMASI BATURAJA DI LINTASAN AIR KITI, OKU, SUMATERA SELATAN
Abstract
Aspek mikrofasies dan diagenesis batugamping Formasi Baturaja di sepanjang lintasan Air Kiti, Sumatera Selatan, telah dipelajari guna mengetahui mekanisme pengendapan batuan dan sejarah proses geologi paska pengendapan batuan. Percontoh batugamping telah diambil secara sistematis pada formasi batuan yang berumur Miosen Awal tersebut, dan dipakai untuk bahan pengujian petrografi di laboratorium. Analisis petrografi telah dilakukan terhadap dua puluh empat puluh dua percontoh batugamping memperlihatkan bahwa jenisnya adalah batugamping mudstone, wackestone, packstone, floatstone, rudstone, bafflestone dan bindstone. Lingkungan pengendapan batugamping Formasi Baturaja meliputi fasies terumbu belakang, bangunan terumbu, sayap terumbu dan terumbu depan. Beragam proses diagenesis pasca pengendapan batuan, yang meliputi: bioturbasi, penyemenan, neomorfisme, pemikritan, pemampatan, peretakan, dan pelarutan.

Kata kunci: Baturaja, batugamping, petrografi, mikrofasies, diagenesis.
Downloads
Download data is not yet available.
References
Andreeva, P., 2008. Microfacies analysis of Middle Devonian (Eifelian) carbonate rocks from deep wells in North-Eastern Bulgaria (preliminary results). Geologie Sedimentologie 61:1309-1314.
Bathurst, R.G.C., 1975. Carbonate sediments and their diagenesis, second enlarged edition. Elsevier Scientific Publishing Company, New York, Amsterdam, Oxford, 658 p.
Bishop, M.G., 2001. South Sumatra basin province, Indonesia: The Lahat/Talangakar Cenozoic total petroleum system. USGS open file report 99-50-S2001.
Choquette P.W. and Pray, L.W., 1970. Geological nomenclature and classification of porosity in sedimentary carbonates. Am. Assoc. Petrol. Geol. Bull. 54: 207-50.
Dunham, R.J., 1962. Classification of carbonate rocks according to depositional texture. In: W.E. Ham (ed). Classification of carbonate rocks. Am. Assoc. Petrol. Geol. Mem. 1: 108-121.
Embry, A.F. and Klovan, J.E., 1971. A Late Devonian reef tract on north-eastern Banks Island, north west territory. Can. Petrol. Geol. Bull. 19: 730-781.
Flugel, E., 1982. Microfacies analysis of limestones. Springer-Verlag Inc., Berlin, Heidelberg, New York, 633 p.
Folk, R.L., 1962. Spectral subdivisions of limestone types. In: W.E. Ham (ed). Classification of carbonate rocks. Am. Assoc. Petrol. Geol. Mem. 1: 62-85.
Gafoer, S., Amin, T.C., dan Pardede, R., 1993. Peta geologi lembar Baturaja, Sumatera, sekala 1 : 250.000. Pusat Penelitian dan Pengembangan Geologi, Bandung.
Gafoer, S., Amin, T.C., dan Poernomo, J., 1986. Peta geologi lembar Lahat, Sumatera, sekala 1 : 250.000, Pusat Penelitian dan Pengembangan Geologi, Bandung.
Gregg, J.M., 2005. Photographic gallery of carbonate petrology. Via < http://web.umr.edu/~greggjay /Carbonate_Page/photogal.html > (27/2/2006).
Hamilton, W., 1979. Tectonics of the Indonesia region. USGS Prof. Paper 1078, 345p.
Harzhauser, M. and Piller, W.E., 2009. Molluscs as a major part of subtropical shallow-water carbonate production – an example from a Middle Miocene oolite shoal (Upper Serravallian, Austria). Int. Assoc. Sed. Spec. Publ. 42: 185-200.
Hutchinson, C.S., 1996. South-east Asian oil, gas, coal and mineral deposits. Clarendon Press, Oxford.
Indranadi, V.B., Prasetyadi, C., and Toha, B., 2012. Yogyakarta pull-apart basin. geology of Indonesia, stratigraphic column geology of Java, Sumatera, Kalimantan, Sulawesi and Papua. http://ilmugeologi.com /2012/08/ yogyakarta -pull-apart-basin. html <10-03-2013>
James, N.P., 1991. Diagenesis of carbonate sediments, notes to accompany a short course. Geol. Soc. Austr., 101 p.
Jones, B. and Desrochers, A., 1992. Shallow platform carbonates. In Walker, R.G. and James, N.P. (eds), Facies models, response to sea level change. Geol. Assoc. Can. Bull. : 277 - 301.
Kindler, P. and Hearty, P.J., 1996. Carbonate petrography as an indicator of climate and sea-level changes: New data from Bahamian Quaternary units. Sedimentologi 43: 381-399.
Limbong, A., Maryanto, S., Heryanto, R., Wiryosujono, A., dan Riyadi., 2004. Penelitian batuan karbonat Sumatera Selatan. Proyek Penelitian Geologi Sumberdaya Energi dan Mineral, Tahun Anggaran 2004, Puslitbang Geologi Bandung (tidak terbit).
Longman, M.W., 1980. Carbonate diagenetic textures from nearsurface diagenetic environments. AAPG Bull. 64: 461-487.
Maryanto, S., 2012. Limestone diagenetic records based on petrographic data of Sentolo Formation at Hargorejo traverse, Kokap, Kulonprogo. J. Geol. Indon. 7: 87-99.
Maryanto, S., 2008. Hubungan antarkomponen mikrofasies lereng terumbu dan cekungan lokal terumbu belakang batugamping bioklastika Formasi Baturaja di daerah sekitar Muaradua, Sumatera Selatan. J.S.D Geol. 18: 107-120.
Maryanto, S., 2007. Petrografi dan proses diagenesis batugamping Formasi Baturaja di lintasan Air Saka, OKU Selatan, Sumatera Selatan. J.S.D Geol. 17: 13-31.
Maryanto, S., 2005. Sedimentologi batuan karbonat Tersier Formasi Baturaja di lintasan Air Napalan, Baturaja, Sumatera Selatan. J. S. Daya Geol. 5: 83-101.
Melim, L.A., Swart, P.K., and Maliva, R.G., 2001. Meteoric and marine-burial diagenesis in the subsurface of Great Bahama bank. SEPM Spec. Publ. 70: 137-161.
Moore, C.H., 1997. Carbonate diagenesis and porosity. Developments in sedimentology 46. Elsevier Science B.V., 338 p.
Omana, L. and Alencaster, G., 2009. Lower Aptian shallow-water benthic foraminiferal assemblage from the Chilacachapa range in the Guerrero-Morelos Platform, south Mexico. Revista Mexicana de Ciencias Geológicas 26: 575-586.
Railsback, L.B., 2002. An Atlas of pressure dissolution features. Via: < http://www.gly.uga.edu/ railsback/PDFindex1.html > (20/02/2006).
Ramadan, K.A.Al., Hussain, M., Imam, B., and Saner, S., 2004. Lithologic characteristics and diagenesis of the Devonian Jauf sandstone at Ghawar Field, Eastern Saudi Arabia. Mar. & Petrol.Geol. 21: 1221–1234
Read, J.F., 1985. Carbonate platform facies models. Am Assoc. Petrol. Geol. Bull. 69: 1-21.
Schlager, W. and Reijmer, J.J.G., 2009. Carbonate platform slopes of the Alpine Triassic and the Neogene - a comparison. Austr. J. Earth Sci. 102: 4-14.
Smith, G.L. and Simo, J.A., 1997. Carbonate diagenesis and dolomitization of the Lower Ordovician Prairie Du Chien group. Geoscience Wincosin 16: 1-16.
Tucker, M.E. and Wright, V.P., 1990. Carbonate sedimentology. Blackwell Scientific Publications, Oxford, London, Edinburg, Cambridge, 482 p.
Ulmer-Scholle and Mosley, 2000. Sedimentary petrography. Geology 424/524. Via: < http://www.ees.nmt.edu/ Geol/classes/geol524/homepage.html > (20/02/2006).
Wilson, J.L. 1975. Carbonate facies in geologic history. Springer-Verlag, New York, Heidelberg, Berlin, 471 p.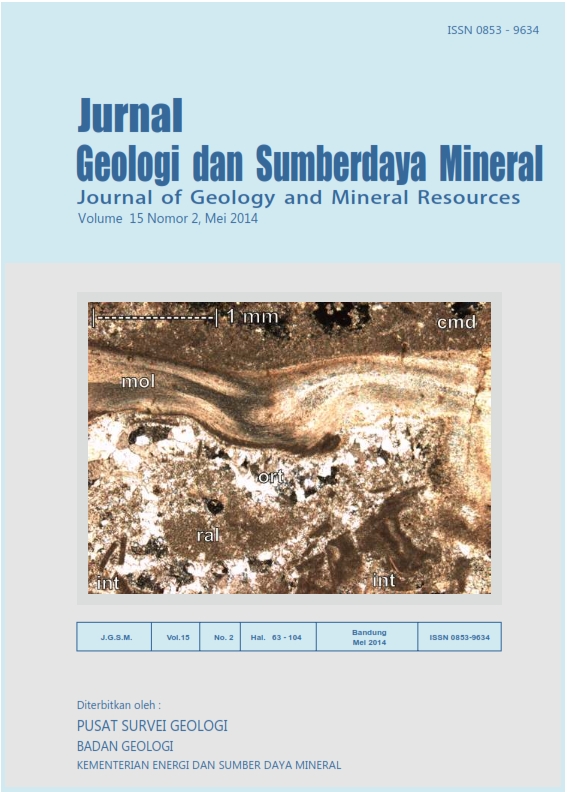 Downloads
License
Authors who publish articles in Jurnal Geologi dan Sumberdaya Mineral (JGSM.Geologi) agree to the following terms:
Authors retain copyright of the article and grant the journal right of first publication with the work simultaneously licensed under a CC-BY-NC or The Creative Commons Attribution–ShareAlike License.
Authors are able to enter into separate, additional contractual arrangements for the non-exclusive distribution of the journal's published version of the work (e.g., post it to an institutional repository or publish it in a book), with an acknowledgment of its initial publication in this journal.
Authors are permitted and encouraged to post their work online (e.g., in institutional repositories or on their website) prior to and during the submission process, as it can lead to productive exchanges, as well as earlier and greater citation of published work (See The Effect of Open Access)