Studi Karakteristik Zeolit di Yogyakarta Serta Pemanfaatannya Sebagai Builder Agent Untuk Memproduksi Deterjen Ramah Lingkungan
Abstract
Zeolit adalah sekelompok mineral aluminosilikat yang memiliki beberapa jenis mineral sebagai anggotanya. Karakteristik khusus zeolit membuat mineral ini memiliki kemampuan adsorpsi dan presipitasi permukaan yang dapat digunakan untuk membuat deterjen ramah lingkungan. Zeolit dapat berperan dalam mengganti senyawa fosfat yang biasanya digunakan sebagai agen buffer pada deterjen. Karakteristik zeolit di Tegalrejo, Kecamatan Gedangsari, Kabupaten Gunungkidul, Daerah Istimewa Yogyakarta ditentukan oleh beberapa analisis, termasuk analisis X-Ray Difraksi (XRD) X-Ray Fluoresensi (XRF), dan kapasitas pertukaran kation (CEC). Hasil identifikasinya termasuk mineral zeolit yang menyusun sampel, yaitu klinoptilolit dan mordenit; senyawa oksida utama adalah SiO2 dan Al2O3; dan memiliki kapasitas pertukaran kation yang bervariasi antara 26,50 cmol(+)/kg hingga 50,17 cmol(+)/kg. Deterjen yang dibuat dengan campuran zeolit kemudian dianalisis kualitas dan tingkat ramah lingkungannya dengan uji toksisitas, organoleptik, dan stabilitas busa. Hasil pengujian menemukan bahwa semakin tinggi konsentrasi zeolit dalam deterjen, kelangsungan hidup ikan meningkat sebesar 297,29 %. Penambahan zeolit juga mempengaruhi stabilitas busa deterjen dan bentuk fisik deterjen yang dihasilkan. Dengan demikian, dengan penambahan zeolit, deterjen yang dihasilkan menjadi lebih ramah lingkungan dan memiliki kualitas pembersihan yang lebih baik.

Katakunci: Builder agent, deterjen, Gedangsari, zeolit.


Downloads
Download data is not yet available.
References
Agustina, S., Wuryanto dan Suratmono, 2005. Biodegradasi dan Toksisitas Deterjen. Jurnal Kimia dan Kemasan, 27(2): 1-7.
Atikah, W.S., 2017. Potensi Zeolit Alam Gunungkidul Teraktivasi Sebagai Media Adsorben Pewarna Tekstil. Arena Tekstil, 32(1): 17–24.
Deer, W.A., Howie, R.A., and Zussman, J., 2013. An Introduction to the Rock Forming Minerals, 3rd Edition. The Mineralogical Society, London.
Eberl, D.D., 2003. User's Guide to Rockjock – A Program for Determining Quantitative Mineralogy from Powder X-Ray Diffraction Data. U.S. Geological Survey Open-File Report 03-78, 47h.
Emelda, L., Putri., S.M. dan Ginting, S., 2013. Pemanfaatan Zeolit Alam Teraktivasi untuk Adsorpsi Logam Krom (Cr3+). Jurnal Rekayasa Kimia dan Lingkungan, 9(4): 166–172.
Jha, B. and Singh, D.N., 2016. Applications of Fly Ash Zeolites: Case Studies. Advanced Structured Materials, 78: 191-202.
Koohsaryan, E., Anbia, M. and Maghsoodlu, M., 2020. Application of Zeolites as Non-phosphate Detergent Builders: A Review. Journal of Environmental Chemical Engineering, 8(1): 1–27.
Margeta, K. and Anamarija F., 2020. Zeolites - New Challenges. Intech Open. London, United Kingdom.
Marfuatun, 2011. Manfaat Zeolit dalam Bidang Pertanian dan Peternakan. Laporan Pengabdian Kepada Masyarakat, Universitas Negeri Yogyakarta.
Moshoeshoe, M., Tabbiruka, M.S. and Obuseng, V., 2017. A Review of the Chemistry, Structure, Properties and Applications of Zeolits. American Journal of Materials Science, 7(5): 196–221.
Muzwar, K., Hidajat, W., dan Winarno, T., 2018. Genesis dan Karakteristik Endapan Zeolit Desa Hargomulyo dan Sekitarnya, Kecamatan Gedangsari, Gunung Kidul, Daerah Istimewa Yogyakarta. Jurnal Geosains dan Teknologi, 1(1):19–24
Pálinkó, I., Kónya, Z., Kukovecz, Ã., and Kiricsi, I., 2013. Zeolite. Dalam Vajtai, R. (Ed), Springer Handbook of Nanomaterials. Berlin, Heidelber.
Suryani, I. 2014. Kapasitas Tukar Kation (KTK) Berbagai Kedalaman Tanah pada Areal Konversi Lahan Hutan. Jurnal Agrisistem, 10(2): 99–106.
Wiyantoko, B., and Rahmah, N., 2017. Measurement of Cation Exchange Capacity (CEC) on Natural Zeolite by Percolation Method. Proceedings AIP Conference, 1911.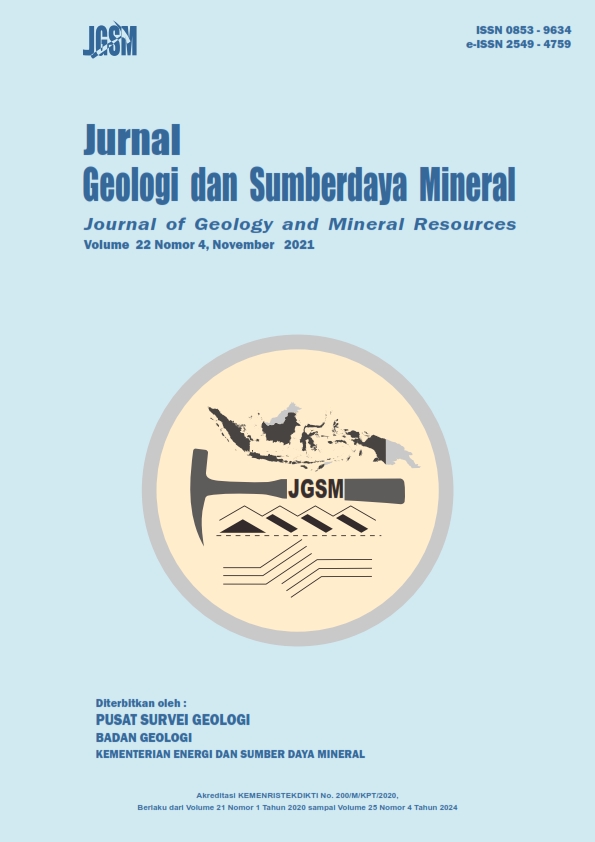 Downloads
License
Authors who publish articles in Jurnal Geologi dan Sumberdaya Mineral (JGSM.Geologi) agree to the following terms:
Authors retain copyright of the article and grant the journal right of first publication with the work simultaneously licensed under a CC-BY-NC or The Creative Commons Attribution–ShareAlike License.
Authors are able to enter into separate, additional contractual arrangements for the non-exclusive distribution of the journal's published version of the work (e.g., post it to an institutional repository or publish it in a book), with an acknowledgment of its initial publication in this journal.
Authors are permitted and encouraged to post their work online (e.g., in institutional repositories or on their website) prior to and during the submission process, as it can lead to productive exchanges, as well as earlier and greater citation of published work (See The Effect of Open Access)