Tingkat Diagenesis dan Potensi Serpih Hidrokarbon Formasi Keruh di Daerah Kuantan Singingi, Provinsi Riau Sumatera Tengah
Abstract
Penelitian ini difokuskan pada batuan di Formasi Keruh yang dianggap berpotensi sebagai serpih hidrokarbon (serpih minyak dan serpih gas) pada Formasi Keruh yang berumur Eosen – Oligosen. Pada daerah baratlaut lokasi penelitian (Manunggal, Nusariau, dan Makarya) mempunyai batuan yang berpotensi sebagai serpih minyak, serpih gas, serpih minyak & gas. Pada daerah tenggara daerah penelitian (Prk.TBS dan Sitiung) memiliki batuan yang berpotensi sebagai serpih minyak saja. Tingkat diagenesis batuan sumber hidrokarbon Formasi Keruh termasuk ke dalam tingkat diagenesis kelompok II atau setara dengan Mesogenetik matang A. Diagenesis tingkat ini diakibatkan oleh timbunan dengan kedalaman sampai dengan 3.000 m, dan menghasilkan temperatur purba sampai dengan 900C
Katakunci: Diagenesis, Formasi Keruh, hidrokarbon, serpih.
 
Downloads
Download data is not yet available.
References
Burley, S.D., Kantorowicz, J.D.,and Waugh, B., 1987. Clastic Diagenesis., in Beaumont, E.A. and Foster, N.H., (compilators): Reservoirs II, Sandstones, Treatise of Petroleum Geology, Reprint Series No. 4, AAPG., p. 408-445.
Heidrick, T. and Aulia, K., 1993. A Structural and Tectonic Model of the Coastal Plains Block, Central Sumatera Basin, Indonesia. IPA, 2006-22nd Annual Convention Proceedings, 1993.
Heryanto, R., Suwarna, N., dan Panggabean, H., 2004a. Potensi Oil Shale di Daerah Kuantan-Sengingi, Riau Dalam : Peran Puslitbang Geologi Dalam Pemberdayan Potensi Daerah. Publikasi Khusus No. 31, Maret 2004, Pusat Penelitian dan Pengembangan Geologi, p. 293-306.
Heryanto, R., Suwarna, N. and Panggabean, H., 2004b. Hydrocarbon Source Rock Potential of the Eocene-Oligocene Keruh Formation in the Southwestern Margin of the Central Sumatera Basin. Journal of Geological Resources, 14(3): Desember 2004.
Heryanto, R., 2006. Diagenesis, Coalification, and Hydrocarbon Generation of the Keruh Formation, in Kuantan-Singingi Area, Central Sumatera, Indonesia. Jurnal Geologi dan Sumberdaya Mineral, 16(1): 3-15.
Kantsler, A.J., Cook, A.C., and Smith, G.C., 1978. Rank Variation, Calculated Paleotemperatures in Understanding Oil, Gas Occurrence. Oil and Gas Journal, 20: 196-205.
Kusumahbrata, Y. and Suwarna, N., 2003. Characteristic of the Keruh Formation Oil Shale : It Implication to Oil Shale Resource Assesment. Prosiding Kolokium Kementerian Energi dan Sumberdaya Mineral, p. 362-370.
Maskyur, W., Hermiyanto, M.H., Andy, S., Iskandar, Y., dan Gadis, G., 2021. Buku Rekomendasi Wilayah Keprospekan Migas Daerah Kuansing. Pusat Survei Geologi., Bandung.
Panggabean, H., 2003. Laporan Interpretasi Scannign Elektron Mikroskop (SEM). Unpublish.
Silitonga, P.H. dan Kastowo, 1995. Geologi Lembar Solok, Sumatera, Skala 1:250.000. Pusat Penelitian dan Pengembangan Geologi, Bandung.
Schmidt, V. and McDonald, D.A., 1979. The Rock of Secondary in the Course of Sandstone Diagenesis. Soc. Econ. Pal. Min., Spec. Publ., 26: 175-207.
Van Krevelen, D.W., 1950. Graphical-Statistical Method for the Study of Structure and Reaction Processes of Coal. Fuel, 29: 269-84.
Wang, F.P. and Gale, J.F.W., 2009. Screening Criteria for Shale-Gas Systems. Gulf Coast Association of Geological Societies Transactions, 59.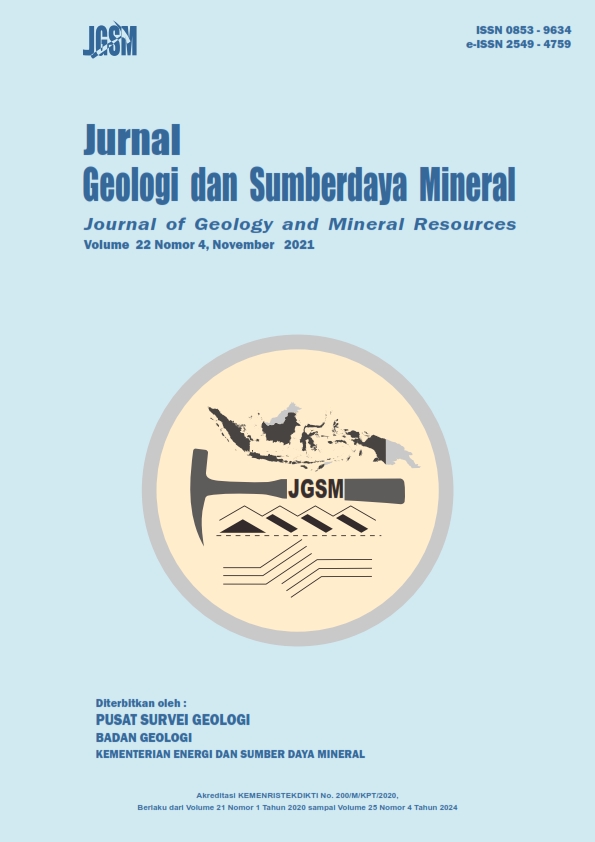 Downloads
License
Authors who publish articles in Jurnal Geologi dan Sumberdaya Mineral (JGSM.Geologi) agree to the following terms:
Authors retain copyright of the article and grant the journal right of first publication with the work simultaneously licensed under a CC-BY-NC or The Creative Commons Attribution–ShareAlike License.
Authors are able to enter into separate, additional contractual arrangements for the non-exclusive distribution of the journal's published version of the work (e.g., post it to an institutional repository or publish it in a book), with an acknowledgment of its initial publication in this journal.
Authors are permitted and encouraged to post their work online (e.g., in institutional repositories or on their website) prior to and during the submission process, as it can lead to productive exchanges, as well as earlier and greater citation of published work (See The Effect of Open Access)