GEOLOGI BAWAH PERMUKAAN DATARAN KLATEN BERDASARKAN INTERPRETASI DATA MIKROTREMOR
Abstract
Dataran Klaten dan sekitarnya ditutupi oleh endapan fluvial vulkanik Merapi yang bersifat lepas. Hal ini menyulitkan dalam mengidentifikasi struktur geologi dibawahnya. Sehubungan dengan hal tersebut telah dilakukan pengukuran mikrotremor pada tiga (3) lintasan di daerah ini. Pengolahan data dilakukan dengan metode Horizontal to Vertical Spectral Ratio (HVSR, metode Nakamura) untuk mendapatkan penampang spektrum HVSR. Hasil pengolahan menunjukkan adanya pola struktur bawah permukaan berupa dataran, cekungan dan sesar normal yang berarah utara-selatan.

Kata kunci : mikrotremor, HVSR, fluvial vulkanik Merapi, perioda/frekuensi resonansi, penampang spektrum.
Downloads
Download data is not yet available.
References
Lachet, C and Bard P.Y., 1994. Numerical and Theoritical Investigation on the Posibility and Limitation of the Nakamura Technique. Journal Physics Earth. 42: 377-397.
Ibs-von Seht M. and Wohlenberg.J., 1999. Microtremor Measurements Used to Map Thickness of Soft Sediment. Bulletin of the Seismological Society of America. 89 (I): 250-259.
Nakamura, Y. 1989. A Method for Dynamic Characteristics Estimation of Subsurface Using Microtremor on the Ground Surface. Quarterly report Railway Technical Research Institute, Tokyo: 25-33.
Noguchi, T. and Nishida, R., 2002. Determination of Subsurface Structure of Tottori Plain Using Microtremors and Gravity Anomaly. Journal of Natural Disaster Sciences. 24(1):1-13.
Parolai, S, Bormann, P. and Milkereit, C., 2002. New Relationships Between Vs, Thickness of Sediments and Resonant Frequency Calculated by the H/V Ratio of Seismic Noise for Cologne Area (Germany). Bulletin of Seismological Society of America. 92: 2521-2527.
Samodra, H. dan Sutisna, K., 1997. Peta Geologi Lembar Klaten, Jawa skala 1 : 50.000. Pusat Penelitian dan Pengembangan Geologi, Bandung.
Soeriaatmaja, R., Maury.R.C, Bellon.H, Pringgoprawiro.H, Polve.M., and Priadi.B., 1991. The Tertiary Magmatic Belt in Java. Proceeding of the Symposium on the Dynamics of Subduction and Its Product, Yogyakarta.
Suharna, Y., 2008. Laporan Mikrozonasi Daerah Bantul. tidak dipublikasi.
Surono, Toha.B. dan Sudarno., 1992. Peta Geologi Lembar Surakarta – Giritontro, Jawa, Skala 1: 100.000. Pusat Penelitian dan Pengembangan Geologi, Bandung.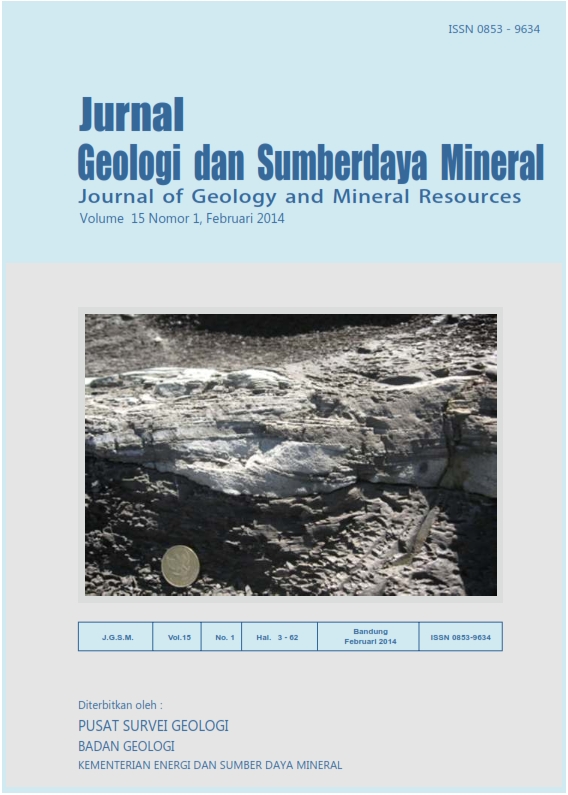 Downloads
License
Authors who publish articles in Jurnal Geologi dan Sumberdaya Mineral (JGSM.Geologi) agree to the following terms:
Authors retain copyright of the article and grant the journal right of first publication with the work simultaneously licensed under a CC-BY-NC or The Creative Commons Attribution–ShareAlike License.
Authors are able to enter into separate, additional contractual arrangements for the non-exclusive distribution of the journal's published version of the work (e.g., post it to an institutional repository or publish it in a book), with an acknowledgment of its initial publication in this journal.
Authors are permitted and encouraged to post their work online (e.g., in institutional repositories or on their website) prior to and during the submission process, as it can lead to productive exchanges, as well as earlier and greater citation of published work (See The Effect of Open Access)