Geologi Daerah Tamilouw-Haya, Kecamatan Tehoru, Kabupaten Maluku Tengah, Provinsi Maluku
Abstract
Tamilouw-Haya terletak di bagian selatan Pulau Seram, Provinsi Maluku yang berada pada elevasi 3 - 675 m di atas permukaan laut. Studi ini bertujuan untuk mengetahui kondisi geomorfologi, stratigrafi dan stuktur geologi di wilayah penyelidikan. Tahapan penyelidikan menggunakan kajian studi pustaka, kegiatan lapangan (fieldwork), analisis petrografi, serta interpretasi peta DEM (digital elevation model). Dari hasil kegiatan menunjukkan bahwa geomorfologi daerah ini terdiri atas 2 (dua) satuan morfologi, yaitu satuan perbukitan rendah berlereng sangat landai - curam dan satuan dataran rendah. Tatanan stratigrafi dibagi menjadi 5 (lima) satuan batuan yang terdiri atas satuan filit kuarsa-muskovit, satuan batusabak kuarsa-muskovit, satuan meta-batupasir kuarsa-muskovit, satuan batugamping koral dan endapan aluvial. Struktur geologi yang berkembang merupakan lipatan antiklin serta liniasi yang berarah utara baratlaut - selatan tenggara dan timurlaut - baratdaya yang membentuk sesar geser mengiri (sinistral) dan menganan (dekstral).
Katakunci: Geomorfologi, liniasi, lipatan antklin, stratigrafi, struktur geologi.
Downloads
Download data is not yet available.
References
Bradshaw, M.T., Yeates, A.N., Beynon, R.M., Brakel, A.T., Langford, R.P., Totterdell, J.M., and Yeung, M., 1988. Palaeogeographic Evolution of the North West Shelf Region, in Purcell, P.G. and Putcell, R.R. (Eds.). The North West Shelf of Australia. Proceeding of North West Shelf Symposium, Perth, 29-54, Petroluem Exploration Society of Australia.
Cox, S.F., Etheridge, M.A., and Wall, V.J., 1986. The Role of Fluids in Syntectonic Mass Transport and the Localization of Metamorphic Vein-type Ore Deposits. Ore Geology Review, 2: 65-86.
Cox, S.F., Knackstedt, M.A., and Braun, J., 2001. Principles of Structural Control on Permeability and Fluid Flow in Hydrothermal Systems. Reviews in Economic Geology, 14: 1-24.
Kemp, G. and Mogg, W., 1992. A Re-appraisal of the Geology, Tectonics and Prospectivity of Seram Island, Eastern Indonesia. Proceedings of Indonesian Petroleum Association 21st Annual Convention, 521-552.
Pownall, J.M., Forster, M.A., Hall, R., and Watkinson I.M., 2017. Tectonometamorphic Evolution of Seram and Ambon, Eastern Indonesia: Insights from 40Ar/39Ar Geochronology. Gondwana Research, 44: 35-53.
Samalehu, H., 2021. Geologi, Karakteristik dan Mineralisasi Hidrotermal Batuan Metamorf Kompleks Tehoru dan Taunusa di Pulau Seram, Indonesia. Disertasi, Universitas Gadjah Mada, Yogyakarta.
Sapiie, B. and Hadiana, M., 2014. Analogue Modeling of Oblique Convergent Strike-Slip Faulting and Application to The Seram Island, Eastern Indonesia. Indonesian Journal of Geoscience, 1(3): 121-134.
Sapiie, B., Hadiana, M., Patria, M., Adyagharini, A. C., Saputra, A., Teas, P. A., and Widodo, 2012. 3D Structural Geology Analysis using Integrated Analogue Sandbox Modelling : A Case Study of the Seram Thrust-fold Belt. Proceedings Indonesian Petroleum Association, 37th Annual Convention and Exhibition, Jakarta.
Tjokrosapoetro, S., Achdan, A., Suwitodirdjo, S., Rusmana, E., dan Abidin, H.Z., 1993. Peta Geologi Lembar Masohi Skala 1:250.000. Pusat Penelitian dan Pengembangan Geologi, Bandung.
Tjokrosapoetro, S. dan Budhitrisna, T., 1982. Geology and Tectonics of the Northern Banda Arc. Bulletin of the Indonesian Geological Research and Development Centre, 6: 1-17.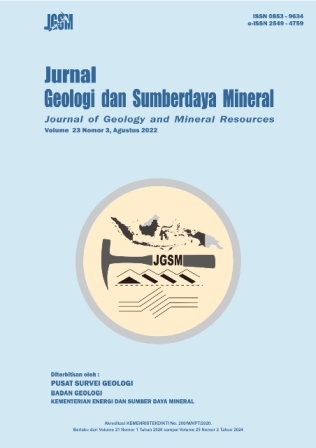 Downloads
License
Authors who publish articles in Jurnal Geologi dan Sumberdaya Mineral (JGSM.Geologi) agree to the following terms:
Authors retain copyright of the article and grant the journal right of first publication with the work simultaneously licensed under a CC-BY-NC or The Creative Commons Attribution–ShareAlike License.
Authors are able to enter into separate, additional contractual arrangements for the non-exclusive distribution of the journal's published version of the work (e.g., post it to an institutional repository or publish it in a book), with an acknowledgment of its initial publication in this journal.
Authors are permitted and encouraged to post their work online (e.g., in institutional repositories or on their website) prior to and during the submission process, as it can lead to productive exchanges, as well as earlier and greater citation of published work (See The Effect of Open Access)