Potensi Kebencanaan dan Sumberdaya Panas Bumi di Daerah Kuningan dan Sekitarnya Berdasarkan Analisis Data Geomagnet dan Peta Citra Demnas
Abstract
Daerah Kuningan dan sekitarnya berada pada bagian zona lajur struktur Pamanukan-Cilacap yang memiliki bentang dan wisata alam indah, termasuk di dalamnya pemandian air panas Sangkanhurip. Dalam upaya pengembangan potensi alam tersebut diperlukan penyelidikan terintegrasi untuk mengetahui potensi kebencanaan dan sumberdaya yang terkandung di dalamnya, salah satunya dengan melakukan survei geofisika metode geomagnet yang dikorelasikan dengan peta citra Demnas. Hasil analisis dan penafsiran metode tersebut di daerah penyelidikan yang dialasi oleh batuan sedimen Miosen-Plistosen dan tertutupi secara tak selaras oleh batuan vulkanik Kuarter dengan ketebalan mencapai 64,81 m hingga 473,39 m, memperlihatkan hubungan struktur geologi yang berperan aktif terhadap pembentukan zona potensi tanah longsor (kemiringan terjal) dengan total luas 1.017 Ha, zona potensi gempa bumi (area batuan sedimen lunak) dengan total luas 1.878 Ha, dan zona potensi sumberdaya panas bumi (adanya struktur, gradien geothermal dan mata air panas) dengan total luas 75,5 Ha.
Katakunci: Geomagnet, Kuningan, peta citra, zona potensi.
Downloads
Download data is not yet available.
References
Andari, W., Karyanto, dan Kurniawan, R., 2019. Identifikasi Batas Sub-Cekungan Hidrokarbon Menggunakan Analisis SHD (Second Horizontal Derivative) dan SVD (Second Vertical Derivative) Berdasarkan Korelasi Data Gayaberat dan Seismik. Jurnal Geofisika Eksplorasi, 5(1): 60-74.
Armandita, C., Mukti, M.M., and Satyana, A.H., 2009. Intra-arc Trans-tension Duplex of Majalengka to Banyumas Area: Prolific Petroleum Seeps and Opportunities in West-Central Java Border. Proceeding Indonesian Petroleum Association, 33rd annual Convention and Exhibition, Jakarta: IPA09-G-173.
Badan Informasi Geospasial, 2018. Peta Citra Demnas 1309-12 dan 1309-21 v1.0, 84.8 MB; http://tides.big.go.id/DEMNAS/DEMNAS.php
Bakosurtanal, 1999. Peta Rupabumi Digital Indonesia Lembar 1309-124 Sumber, Skala 1:25.000. Badan Koordinasi Survey dan Pemetaan Nasional. Bogor.
Bakosurtanal, 2000. Peta Rupabumi Digital Indonesia Lembar 1309-213Beber; Lembar 1309-122Kuningan; Lembar 1309-211Ciawigebang; Skala 1:25.000. Badan Koordinasi Survey dan Pemetaan Nasional. Bogor.
Blakely, R.J., 1996. Potential Theory in Gravity and Magnetic Applications. Cambridge University Press, United Kingdom: 358h.
Breiner, S., 1999. Applications Manual for Portable Magnetometers. Geometrics, USA: 58h.
Chemong, C.A. and Chenrai, P., 2013. Fracture Density Analysis in the Sai Yol Fault, Western Thailand and Its Implications for Hydrological Exploration. Research Journal of Applied Sciences, 8(2): 125-130.
Djuri. 1995. Peta Geologi Lembar Arjawinangun. Jawa, Skala 1:100.000. Pusat Penelitian dan Pengembangan Geologi, Bandung.
Haryanto, I., dan Hutabarat, J., 2017. Tektonik Sesar Cimandiri, Provinsi Jawa Barat. Bulletin of Scientific Contribution,15(3): 255-274.
Hermawan, D., dan Rezky, Y., 2011. Delineasi Daerah Prospek Panas Bumi Berdasarkan Analisis Kelurusan Citra Landsat di Candi Umbul - Telomoyo, Provinsi Jawa Tengah. Buletin Sumberdaya Geologi, 6(1): 1-10.
Hilmi, F. dan Haryanto, I., 2008. Pola Struktur Regional Jawa Barat. Bulletin of Scientific Contribution, 6(1): 57-66.
Junursyah, G.M.L., 2010. Laporan Akhir Kegiatan Aplikasi Peralatan Magnetotelurik di Daerah Kuningan dan Sekitarnya, Provinsi Jawa Barat. Laporan internal Kegiatan Pengelolaan Sarana Teknik, Pusat Survei Geologi, Bandung (tidak terbit).
Junursyah, G.M.L. dan Agustya, G., 2017. Penafsiran Struktur Geologi di Daerah Gunung Batu Lembang Berdasarkan Korelasi Data Permukaan, Tahanan Jenis, dan Geomagnetik. Jurnal Geologi dan Sumberdaya Mineral, 18(3): 171-182.
Kearey, P., Brooks, M., and Hill, I., 2002. An Introduction to Geophysical Exploration. Blackwell Science, London: 249h.
Koesuma, S., Pratiwi, S., dan Legowo, B., 2018. Penentuan Ketebalan Sedimen Menggunakan Metode Mikrotremor di Kota Surakarta. Jurnal Risalah Fisika, 2(1): 25-28.
Lewerissa, R., Sismanto, S., Setiawan, A., and Pramumujoyo, S., 2020. The Igneous Rock Intrusion Beneath Ambon and Seram Island, Eastern Indonesia, Based on The Integration of Gravity and Magnetic Inversion: Its Implication for Geothermal Energy Resources. Turkish Journal of Earth Sciences, 29:596-616
Maulana, Y., Haryanto, A.D., Ismawan., dan Kusnadi, D., 2019. Penentuan Tipe Fluida Serta Tingkat Permeabilitas Sistem Panas Bumi Daerah Tinggi, Toli-Toli, Sulawesi Tengah. Padjadjaran Geoscience Journal, 3(6): 459-464.
Milsom, J., 2003. Field Geophysics. John Wiley & Sons Ltd., London: 221h.
Nursastri, S.A., 2019. Gempa Magnitudo 2,9 Guncang Kuningan, Bukti Sesar Beribis Masih Aktif. https://sains.kompas.com/read/2019/09/29/113601323/gempa-magnitudo-29-guncang-kuningan-bukti-sesar-baribis-masih-aktif.
Oktoberiman, Prawiranegara, P., Ramadhan, D.A., W., Rizki, F., A. and Tawakal, R., 2015. Identification of Geothermal Potential Based on Fault Fracture Density (FFD), Geological Mapping and Geochemical Analysis, Case Study: Bantarkawung, Brebes, Central Java. The 3rd Indonesia EBTKE-ConEx, Jakarta, Indonesia: 141–151.
Olurin, O.T., Olowofela, J.A., Akinyemi, O.D., Badmus, B.S., Idowu, O.A., and Ganiyu, S.A., 2015. Matched Filtering Analysis of Airborne Magnetic Data Over Idogo Area, Nigeria. The African Review of Physics, 10(0047): 383-393.
Paimin., Sukresno., dan Pramono, I.B., 2009. Teknik Mitigasi banjir dan Tanah Longsor. Tropenbos International Indonesia Programe, Balikpapan.
Prabowo, C., 2017. Efektivitas Pemanfaatan Ruang di Provinsi Jawa Barat (Studi Kasus PLTP Gunung Ciremai dan PLTU Cirebon). Jurnal Rechtsvinding Media Pembinaan Hukum Nasional, 6(2): 207-220.
Reynolds, J.M., 1997. An Introduction to Applied and Environmental Geophysics. John Wiley & Sons Ltd., England: 796h.
Saputra, I. dan Novrinda, R., 2016. Metode Fault Fracture Density untuk potensi gerakan tanah di kota Kendari Provinsi Sulawesi Tenggara. Prosiding Seminar Nasional XI, Yogyakarta: 138-145.
Satyana, A.H., 2015. Subvolcanic Hydrocarbon Procpectivity of Java: Opportunities and Challenges. Proceeding Indonesian Petroleum Association, 39rd Annual Convention and Exhibition, Jakarta: IPA15-G-105.
Setiadi, I., Purwanto, C., Kusnida, D., dan Firdaus, Y., 2019. Interpretasi Geologi Berdasarkan Analisis Data Gayaberat Menggunakan Filter Optimum Upward Continuation dan Pemodelan 3D Inversi (Studi Kasus: Cekungan Akimeugah Selatan, Laut Arafura). Jurnal Geologi Kelautan, 17(1): 33-48.
Silitonga, P.H., Masria, M., dan Suwarna, N., 1996. Peta Geologi Lembar Cirebon. Jawa, Skala 1:100.000. Pusat Penelitian dan Pengembangan Geologi, Bandung.
Sumintadireja, P., Dahrin, D., dan Grandis, H., 2018. A Note on The Use of The Second Vertical Derivative (SVD) of Gravity Data with Reference to Indonesian Cases. J. Eng. Technol. Sci., 50(1):127-139.
Telford, W.M., Geldart, L.P., and Sheriff, R.E., 1990. Applied Geophysics. Cambridge University Press, Sidney: 744h.
Untung, M., 2001. Dasar-Dasar Magnet dan Gayaberat Serta Beberapa Penerapannya. Himpunan Ahli Geofisika Indonesia, Jakarta: 109h.
Van Bemmelen, R.W., 1949. The Geology of Indonesian, Vol.1 A. Government Printing Office, The Hague: 732h.
Van Zuidam, R.A., 1985. Aerial Photo-Interpretation In Terrain Annalysis And Geomorphologic Mapping. Smith Publisher, The Hague, The Netherlands: 442h.
WebDC3. 2020. Accesss to BMKG Data Archive. Explore events. http://202.90.198.100/webdc3/.
Yanis, M., Ismail, N., Hermansyah, L.V., Nanda, M., dan Abdullah, F., 2019. Delineasi Sebaran Sesar di Pulau Weh Berdasarkan Metode Fault Fracture Density (FFD). J. Aceh Phys. Soc., 8(1): 6-10.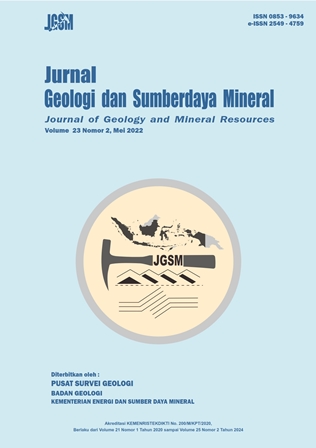 Downloads
License
Authors who publish articles in Jurnal Geologi dan Sumberdaya Mineral (JGSM.Geologi) agree to the following terms:
Authors retain copyright of the article and grant the journal right of first publication with the work simultaneously licensed under a CC-BY-NC or The Creative Commons Attribution–ShareAlike License.
Authors are able to enter into separate, additional contractual arrangements for the non-exclusive distribution of the journal's published version of the work (e.g., post it to an institutional repository or publish it in a book), with an acknowledgment of its initial publication in this journal.
Authors are permitted and encouraged to post their work online (e.g., in institutional repositories or on their website) prior to and during the submission process, as it can lead to productive exchanges, as well as earlier and greater citation of published work (See The Effect of Open Access)