Lingkungan Pengendapan Formasi Eemoiko Daerah Palangga Selatan, Kabupaten Konawe Selatan, Provinsi Sulawesi Tenggara
Abstract
Lokasi penelitian terhadap Formasi Eemoiko Daerah Palangga Selatan Kabupaten Konawe Selatan. Formasi Eemoiko disusun oleh batugamping kalkarenit, batugamping koral, batupasir dan napal. Tujuan pada penelitian ini mengetahui sebaran batuan sedimen pada daerah penelitian dan menentukan lingkungan pengendapan berdasarkan tekstur, struktur serta stratigrafinya. Metode analisis yang digunakan untuk menentukan lingkungan pengendapan yaitu dengan melakukan analisis mikrofosil dan pengukuran penampang stratigrafi. Berdasarkan hasil analisis mikrofosil pada batugamping menunjukkan lingkungan pengendapan pada zona back-reef lagoon lebih tepatnya pada zona inner lagoon sedangkan berdasarkan tekstur dan struktur pada batupasir menunjukkan lingkungan pengendapan channel sungai.
Katakunci: Lingkungan Pengendapan, Formasi Eemoiko, Palangga Selatan.
Downloads
Download data is not yet available.
References
Boltovskoy, E. and Wright, R., 1976. Recent Foraminifera. Junk, The Hague, 515 p.
Boudagher, M. K., 2012. Biostratigraphic and Geological Significance of Planktonic Foraminifera, Elsevier, Oxford, 301 hal.
Hall, R and Smyth, H.R., 2008. Cenozoic arc processes in Indonesia: Identifi cation of the key infl uences on the stratigraphic record in active volcanic arcs. The Geological Society of America
Special Paper 436, 27-54.
Lestari, I., 2019. Studi Lingkungan Pengendapan Batugamping Formasi Matano Daerah Oheo Kecamatan Oheo Kabupaten Konawe Utara Provinsi Sulawesi Tenggara, Skripsi. Universitas Halu Oleo, 146 hal.
Nichols, G., 2009. Sedimentology and Stratigraphy (2 ed.), Wiley-Blackwell, Oxford, 419 hal.
Pettijohn, F.J., Potter, P.E., & Siever, R., 1987. Sand and Sandstone : Second Edition. New York : Springer Verlag
Pomar, L., 2001. Types of carbonate platforms: a genetic approach, Basin Research, 13(3), hal. 313–334. DOI:10.1046/j.0950-091x.2001.00152.x
Simandjuntak, T. O., Surono, dan Sukido, 1993. Peta Geologi Lembar Kolaka, Sulawesi Tenggara, Pusat Penelitian Dan Pengembangan Geologi, Bandung. Laporan tidak diterbitkan.
Surono, 2013. Geologi Lengan Tenggara Sulawesi, Badan Geologi, Bandung, 201 hal.
Susanto, 2008. Petrology, Institut Teknologi Bandung, Bandung, 57 hal.
Tucker, M. E., 2003. Sedimentary Rocks in the Field (The Geological Field Guide Series) (3 ed.), Wiley, West Sussex, 250 hal. DOI:10.1017/5001675680536078X
Tucker, M. E., dan Wright, P. V., 1990. Carbonate Sedimentology, Blackwell, Oxford, 468 hal.
Whitney, D. L., dan Evans, B. W., 2010. Abbreviations for names of rock-forming minerals, American Mineralogist, 95(1), hal. 185–187. DOI:10.2138/am.2010.3371
Zuidam, V., 1986. Aerial photo-interpretation in terrain analysis and geomorphologic mapping, The hacque, Netherland, 442 hal. DOI:DOI:10.2307/634926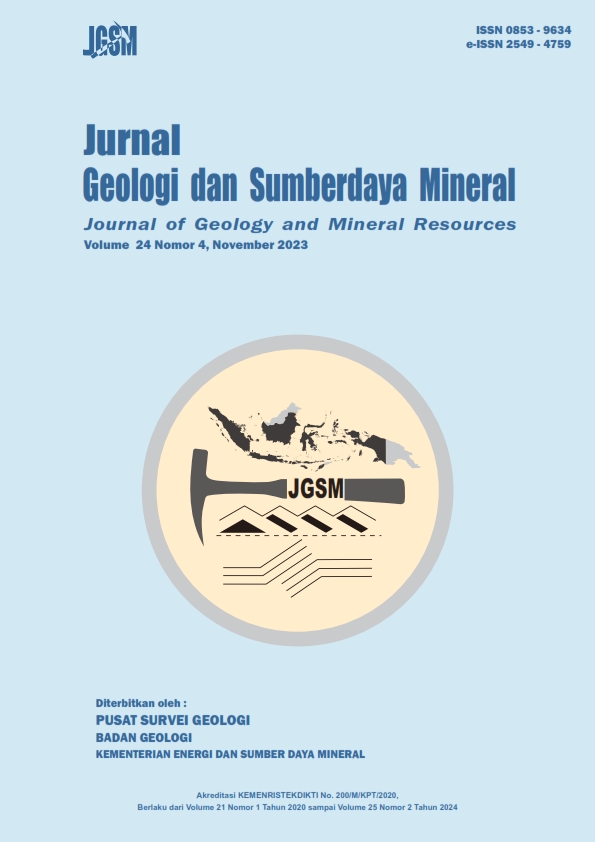 Downloads
License
Copyright (c) 2023 Hasria -
This work is licensed under a Creative Commons Attribution-NonCommercial 4.0 International License.
Authors who publish articles in Jurnal Geologi dan Sumberdaya Mineral (JGSM.Geologi) agree to the following terms:
Authors retain copyright of the article and grant the journal right of first publication with the work simultaneously licensed under a CC-BY-NC or The Creative Commons Attribution–ShareAlike License.
Authors are able to enter into separate, additional contractual arrangements for the non-exclusive distribution of the journal's published version of the work (e.g., post it to an institutional repository or publish it in a book), with an acknowledgment of its initial publication in this journal.
Authors are permitted and encouraged to post their work online (e.g., in institutional repositories or on their website) prior to and during the submission process, as it can lead to productive exchanges, as well as earlier and greater citation of published work (See The Effect of Open Access)