Distribusi Nannofosil dan Foraminifera pada Batas Pliosen-Plistosen Formasi Batilembuti di Pulau Yamdena, Provinsi Maluku dan Relevansinya dengan Tektonik Regional
Abstract
Analisis mikropaleontologi (foraminifera dan nannofosil) merupakan data pendukung dalam merekonstruksi stratigrafi sedimen laut. Studi ini dilakukan untuk menganalisis keragaman dan kelimpahan nannofosil serta foraminifera untuk menentukan umur dan lingkungan pengendapan, serta hubungannya dengan aktifitas tektonik. Berdasarkan kumpulan nannofosil yang terkandung pada empat sampel dari Formasi Batilembuti, batuan ini berumur NN18-NN19, atau batas Pliosen-Plistosen, yang ditandai oleh akhir kemunculan Discoaster brouweri dan awal kemunculan Gephyrocapsa caribbeanica. Berdasarkan foraminifera planktonik, batuan tersebut berumur N21-N22, yang ditentukan dari akhir kemunculan Globigerinoides trilobus fistulosus, Sphaeroidinellopsis seminulina, Globorotalia multicamerata, dan Globigerinoides obliquus extremus dan awal munculnya Globorotalia truncatulinoides. Kumpulan foraminifera bentonik mengindikasikan Formasi Batilembuti diendapkan pada lingkungan batial atas. Rekonstruksi stratigrafi menggambarkan Formasi Batilembuti ditutupi secara tidak selaras oleh batugamping Formasi Batimafudi yang terbentuk pada lingkungan lebih dangkal (sublitoral luar atau neritik luar). Hal ini relevan dengan tektonik regional collision, berlangsung sejak dua juta tahun lalu (batas Pliosen-Plistosen), yang mengakibatkan Kepulauan Tanimbar mengalami pengangkatan hingga akhirnya muncul di permukaan.
Katakunci: Foraminifera, nannofosil, Pliosen, Plistosen, Yamdena.
Downloads
Download data is not yet available.
References
Barker, R.W. 1960. TaxonomicNotes. Society of Economic Paleontologists and Mineralogists, Special Publication No. 9: Tulsa,Oklahoma. USA.
Bignot, G. 1985. Elements of Micropaleontology: The Microfossils Their Geological and Paleoecological Applications. Graham and Trotman Limited: Manchester, UK.
Blow, W.H. 1969. Late Middle Eocene to Recent Planktonic Foraminifera Biostratigraphy. Int., Conf., Plank. Microfossil 1st, vol.1, 199 – 442.
Bolli, H.M & Saunders,J.B. 1985. Oligocene to Holocene Low Latitude Planktic Foraminifera, in: Plankton Stratigraphy. Cambridge University Press, 155 – 262.
Bradshaw, J., Nicoll, R.S., and Bradshaw, M.T. 1990, The Cambrian to Permo – Triassic Arafura Basin, Northern Australia, APEA JOURNAL, 30
Charlton, T.R.. 2000. Tertiary Evolution of the Eastern Indonesia Collision Complex. Journal of Asian Earth Sciences 18, p. 603 – 631
Charlton, T.R.. 2004. The Petroleum Potential of Inversion Anticlines in the Banda Arc. AAPG Bulletin 88, 565-586
Charlton, T.R. 2016. Neogene Plate Tectonic Evolution of The Banda Arc. Proceeding. Indones Pet Assoc. Fortieth.
Kapid, R. dan Suprijanto S. E. 1996. Batas Miosen – Pliosen Berdasarkan Nannoplankton pada Formasi Ledok dan Mundu di daerah Bukit Kapuan , Jawa Timur. Bulletin Geologi, vol. 26, no.1, 1996, p 55 – 64.
Kapid, R. 2003. Nannofosil Gampingan: Pengenalan dan Aplikasi Biostratigrafi. Institut Teknologi Bandung: Bandung.
Isnaniawardhani V, Abdullah CI, Pratiwi SD. 2021. Korelasi Biostratigrafi Foraminifera Plankton dan Nannoplankton Tersier Indonesia Bagian Timur (Studi Kasus: Pulau Sumba). Bulletin Scientific Contribution Geology vol. 19.
Martini, E. 1971. Standard Tertiary and Quartenary Nannoplankton Biozonation. FARRINACCI A. Ed. Proc. 2nd Plank. Conf. Roma, 1970,vol. 2, Technoscienza, 739 – 785: Roma, Italia.
Perch-Nielsen, K. 1985. Cenozoic Calcareous Nannofossils, in: Plankton Stratigraphy. Cambridge University Press, 427 – 554.
Petromet Arafura Limited. 1985. Chronostratigraphy of Koba-1 Well.
Pringgoprawiro, H. dan Kapid, R. 2000. Foraminifera : Pengenalan Mikrofosil dan Aplikasi Biostratigrafi. Institut Teknologi Bandung : Bandung.
Pusat Survei Geologi. 2010. Laporan Studi Stratigrafi Cekungan Tanimbari. Tidak dipublikasikan.
Rauwerda, P.J., Morey, R.J., Troelstra, S.R. 1983. Assessment of Depositional Environment And Stratigraphy on The Basis of Foraminiferal Paleoecology. Robertson Research: Singapore.
Roosmawati N, Harris R. 2009. Surface uplift history of the incipient Banda arc-continent collision: Geology and synorogenic foraminifera of Rote and Savu Islands, Indonesia. Tectonophysics Elsevier.
Styzen, M.J. (1997), Cascading Counts of Nannofosil Abundance, Journal of Nannoplankton Research, vol. 19,no. 1, hal. 49.
Sukardi dan Sutrisno. 1989. Geological Map of the Tanimbar Islands Quadrangle, Maluku. 1:250.000. Bandung: Pusat Penelitian dan Pengembangan Geologi.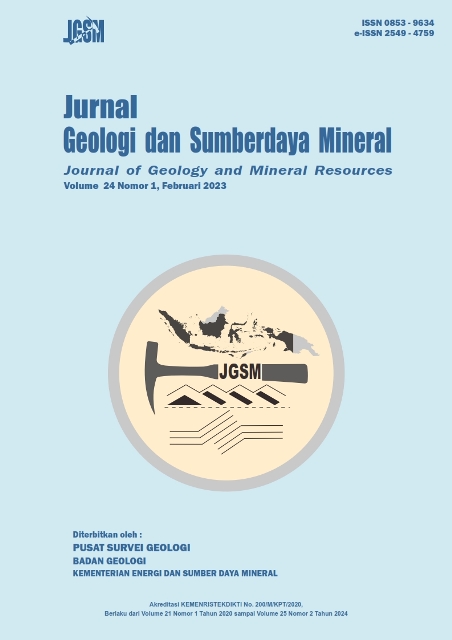 Downloads
License
Copyright (c) 2023 Maskur Widhiyatmoko
This work is licensed under a Creative Commons Attribution-NonCommercial 4.0 International License.
Authors who publish articles in Jurnal Geologi dan Sumberdaya Mineral (JGSM.Geologi) agree to the following terms:
Authors retain copyright of the article and grant the journal right of first publication with the work simultaneously licensed under a CC-BY-NC or The Creative Commons Attribution–ShareAlike License.
Authors are able to enter into separate, additional contractual arrangements for the non-exclusive distribution of the journal's published version of the work (e.g., post it to an institutional repository or publish it in a book), with an acknowledgment of its initial publication in this journal.
Authors are permitted and encouraged to post their work online (e.g., in institutional repositories or on their website) prior to and during the submission process, as it can lead to productive exchanges, as well as earlier and greater citation of published work (See The Effect of Open Access)