Endapan Kipas Aluvial di Daerah Bukitlawang, Sumatra Utara Berdasarkan Interpretasi Citra Landsat ETM7 dan IFSAR
Abstract
Bukitlawang alluvial fan deposit formed, North Sumatra is one of the geomorphological aspect that can be observed in landsat and radar images.  Flow direction of the alluvial fan is  from west to east with having the total distribution of 77 Km2. Sumatra fault which is located at the eastern side of it plays a major role in the formation of alluvial fan deposit in this area. The type of alluvial fan is debris flow with the primary sedimentary process is a debris flow deposit.
Keyword : Bukitlawang alluvial fan, Sumatra fault, Geomorphology, Radar – Landsat images.
Downloads
Download data is not yet available.
References
Alparone,L. 2004. Landsat ETM+ and SAR image fusion based on generalized intensity Modulation. Geoscience and Remote Sensing, IEEE Transactions on (Volume:42 , Issue: 12 ), 2832 –2 - 2839.
Bahrami, S. (2013). Tectonic controls on the morphometry of alluvial fans around Danehkhoshk anticline, Zagros, Iran. Geomorphology, 180-181, 217-230.
Blair, T. & McPherson, J. (1994) . Geomorphology of dessert environments, Chapman and Hall Chapter 14, 354-366.
Bull, W.B. 1977. The alluvial fan environment. Progress in Physical Geography 1:222–270.
Darman H., dan Sidi H., 2000. An outline of The Geology of Indonesia. Indonesian Association of Geologist.
Hutchison, C. S. 1973. Tectonic Evolution of Sundaland: A Phanerozoic Synthesis. Proceedings Regional Conference on the Geology of South East Asia, Geological Society of Malaysia. Vol. 6, 61-86.
Stanistreet, I.G. & MC Carthy, T.S. 1993. The Okavango fan and the classification of subaerial fan systems. Sedimentary Geology, 85, 115-133.
Verstappen, H.T., 2010. Indonesian Landforms and Plate Tectonics. Jurnal Geologi Indonesia, 197-207.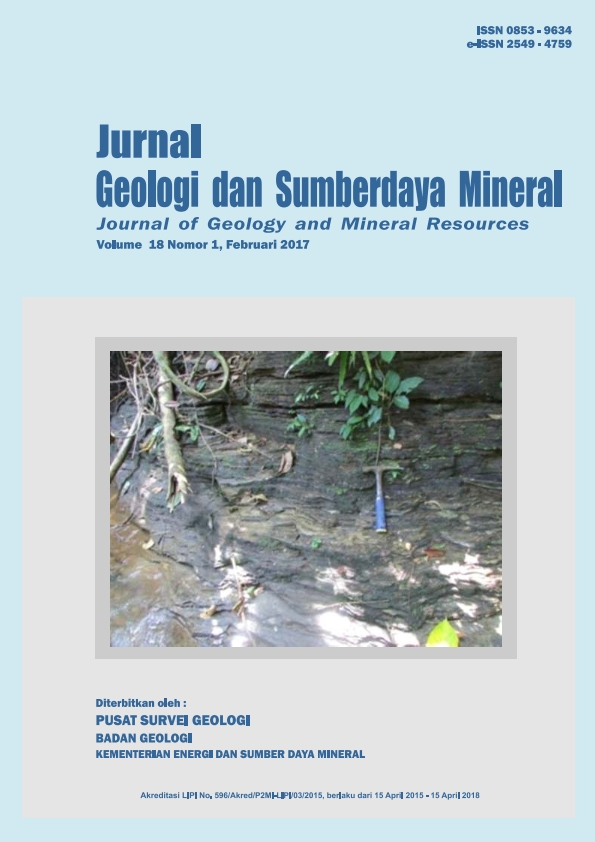 Downloads
License
Authors who publish articles in Jurnal Geologi dan Sumberdaya Mineral (JGSM.Geologi) agree to the following terms:
Authors retain copyright of the article and grant the journal right of first publication with the work simultaneously licensed under a CC-BY-NC or The Creative Commons Attribution–ShareAlike License.
Authors are able to enter into separate, additional contractual arrangements for the non-exclusive distribution of the journal's published version of the work (e.g., post it to an institutional repository or publish it in a book), with an acknowledgment of its initial publication in this journal.
Authors are permitted and encouraged to post their work online (e.g., in institutional repositories or on their website) prior to and during the submission process, as it can lead to productive exchanges, as well as earlier and greater citation of published work (See The Effect of Open Access)