Kondisi Geologi dan Pemodelan Kestabilan Lereng Jalur Transek Liwa-Ranau, Liwa, Lampung Barat
Abstract
Landslide investigations and slope stability modeling have been carried out on the Liwa-Ranau transect road, West Lampung, with the aim of finding the relationship between geological conditions and landslide events. The research methods that be used in this investigation are geological mapping, disturbed and undisturbed soil sampling, laboratory analysis, slope stability analysis, and structural geology analysis. The Liwa-Ranau transect road has a hills topography with a NE-SW, north-south, and NW-SE direction and relatively sharp curve lineament. Based on the field observations, there are four points of landslides which are distributed in the middle of the transect road. Result of field observation shows soil translational slides and debris flow slides which developed with a 12-15 m wide, 15-55 m height, and 37-75 o slope angle. The sliding soil and rock types consist of sandy tuff, clay soil, and claystone.
Keywords: Liwa-Ranau transect road, West Lampung, landslide, slope stability modeling, clay soil, sandy tuff
Downloads
Download data is not yet available.
References
Amin, T.C., Sidarto, Santosa, S., dan Gunawan, W. 1993., Peta Geologi Lembar Kotaagung, Sumatera, Pusat Penelitian dan Pengembangan Geologi
Anonim, 2015. Meteorological Climatological and Geophysical Agency, BMKG Earthquake Database, http://repogempa.bmkg.go.id/proses_query2.php, diakses tanggal 11 Juni 2015
Anonim, 2015. Moment Tensor for MW 5.2 (GCMT) Southern Sumatra, Indonesia, http://ds.iris.edu/spud/momenttensor/9618560, diakses tanggal 6 Juli 2015
Aribowo, S., Pratiwi, I., Irawan, T., Baidilah, M., 2014. Karakteristik Sesar Sumatra Segmen Kumering dan batuan pada skala singkapan sepanjang jalur sesar, Prosiding Pemaparan Hasil Penelitian Pusat Penelitian Geoteknologi, Bandung
Gafoer, S., Amin, T.C., dan Pardede, R., 1993, Peta Geologi Lembar Baturaja, Pusat Penelitian dan Pengembangan Geologi, Departemen Pertambangan dan Energi, Bandung
Hadi, I., Anwar, H.Z., dan Wibowo, S., 1993, Gerakan Tanah di Desa pampangan Kec. Cukuh Balak, Lampung Selatan, Laporan penelitian, Puslitbang Geoteknologi, LIPI
Hamblin, W.K., and Howard, J.D., 1964, Physical Geology 3rd Editon, Minnesota: Burgess
Publishing Company
Hardiyatmo, H.C., 2006, Mekanika Tanah 1, Gadjah Mada University Press
Hardiyatmo, H.C., 2012, Tanah Longsor dan Erosi: Kejadian dan Penanganan, Gadjah Mada University Press
Hurlimann, M., Ledesma, A., and Marti, J., 2001, Characterisation of a volcanic residual soil and its implications for large landslide phenomena: applicationto Tenerife, Canary Islands, Engineering Geology, 59, 115-132, Elsevier
Irsyam, M., Sengara, I.W., Aldiamar, F., Widiyantoro, S., Triyoso, W., Kertapati, E., Natawidjaja, D.H., Meilano, I., Soehardjono, Asrirufak, M., dan Ridwan, M., 2010, Buku Penggunaan Peta Gempa Indonesia 2010, Kementerian Pekerjaan Umum
Koswara, A., dan Santoso., 1995. Geologi rinci daerah Liwa Lampung Barat Sumatera Selatan skala 1:50.000, Jurnal Geologi dan Sumberdaya Mineral, VI
Meyerhoff, G.G., 1956, Penetration test and bearing capacity of cohesionless soils, Journal of Soil Mechanics and Foundations Division, 82, 1-19
Peck, R.B., 1967, Stability of natural slopes, Journal of The Soil Mechanics and Foundation Devision, ASCE, 93, SM 4, 79-83
Resfiandhi, R., Sadisun, I. A., Sumaryono, dan Triana, Y. D., 2014. A review on the features of earthquake induced landslides in Indonesia, Proceeding of International Conference of Transdisciplinary Research on Environmental Problem in Southeastern Asia
Sieh, K., dan Natawidjaja, D.H., 2000, Neotectonics of the Sumatra Fault, Indonesia, Journal of Geophysical Research, 105, 28 295-28 326
Soebowo, E., Kusumadharma, S., Djakamihardja, A.S., Wibawa, S., 1997. Geologi longsoran pada jalur Liwa-Krui, Lampung Barat, Prosiding IAGI, PIT XXVI, Jakarta
Varnes, D. J., 1978. Slope movement types and processes, In: Special Report 176: Landslides: Analysis and Control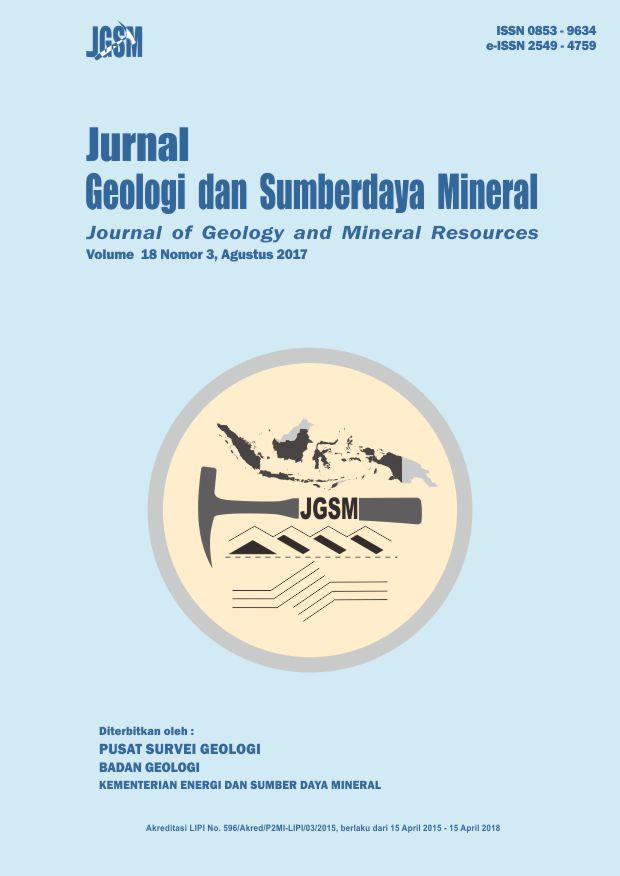 Downloads
License
Authors who publish articles in Jurnal Geologi dan Sumberdaya Mineral (JGSM.Geologi) agree to the following terms:
Authors retain copyright of the article and grant the journal right of first publication with the work simultaneously licensed under a CC-BY-NC or The Creative Commons Attribution–ShareAlike License.
Authors are able to enter into separate, additional contractual arrangements for the non-exclusive distribution of the journal's published version of the work (e.g., post it to an institutional repository or publish it in a book), with an acknowledgment of its initial publication in this journal.
Authors are permitted and encouraged to post their work online (e.g., in institutional repositories or on their website) prior to and during the submission process, as it can lead to productive exchanges, as well as earlier and greater citation of published work (See The Effect of Open Access)