HUBUNGAN ANTARKOMPONEN MIKROFASIES LERENG TERUMBU OAN CEKUNGAN LOKAL TERUMBU BELAKANG BATUGAMPING BIOKLASTIKA FORMASI BATURAJA 01 OAERAH SEKITAR MUARAOUA, SUMATERA SELATAN
Abstract
Bioclastic limestone of the Baturaja Formation cropping out in the Muaradua area, South Sumatera, is a good research object for microfacies analysis. Polarized microscopic study has revealed that the, bioclastic, limestones are predominantly reef-flank and local back-reef basin deposits. The results of T, F, and P tests of the limestones show a significant difference in their carbonate and terrigenous grains, as well as in their neomorphic materials between the deposits. On the other hand, their matrices, cements, and porosities are of no significant difference.
Keywords: reef-flank, back-reef, carbonate grains, petrography
Downloads
Download data is not yet available.
References
Adams A.E. and MacKenzie, W.S., 1998. A Color Atlas of Carbonate Sediments and Rocks Under the Microscope. New York, Toronto: John Wiley & Sons: 180 pp.
Bathurst, R.G.C., 1975. Carbonate Sediments and Their Diagenesis, Second Enlarged Edition. New York, Amsterdam, Oxford: Elsevier Scientific Publishing Company: 658 pp.
Dunham, R.J., 1962. Classification of Carbonate Rocks According to Depositional Textures. In Ham, W.E. (ed).
Classification of Carbonate Rocks. The American Association of Petroleum Geologists Memoir 1: 108-121.
Flugel, E., 1982. Microfacies Analysis of Limestones. Berlin, Heidelberg, New York: Springer-Verlag: 633 pp. Gafoer, S., Amin, T.C., dan Pardede, R., 1993. Peta Geologi Lembar Baturaja. Sumatera. Skala 1 : 250. 000.
Pusat Penelitian dan Pengembangan Geologi, Bandung.
Gregg, J.M., 2005. Photographic Gallery of Carbonate Petrology. Via < http://web.umr.edu/-greggjay/ Carbonate Paqe/photoqal.htrnl > (27/2/2006).
James, N.P., 1991. Diagenesis of Carbonate Sediments, Notes to Accompany a Short Course. Geological Society of Australia :101 pp.
Kendall C.G.St.C., 2005. Carbonate Petrology. In Kendall C.G.St.C. and Alnaji, N.S.(developers). USC Sequence Stratigraphy Web. Via < http://strata.geol.sc.edu/seqstrat.html> (27/02/2006).
Longman, M.W., 1980. Carbonate Diagenetic Textures from Nearsurface Diagenetic Environments. American Association of Petroleum Geologists Bulletin 64: 461-487.
Maryanto, S., 2007a. Keterkaitan Hubungan Antar Variabel Mikrofasies Batugamping Bioklastika dari Formasi Baturaja di daerah Sekitar Muaradua, Sumatera Selatan. Tesis S2 Program Pascasarjana Universitas Padjadjaran, Bandung (tidak diterbitkan).
Maryanto, S., 2007b. Petrografi dan Proses Dlaqenests Batugamping Formasi Baturaja di Lintasan Air Saka, OKU Selatan, Sumatera Selatan. Jurnal Sumber Daya Geologi 17 (1) : 13-31.
Railsback, L.B., 2002. An Atlas of Pressure Dissolution Features. Via < http://www.gly.uga.edu/ raiisback/PDFindex1.html > (20/02/2006).
Read, J.F., 1985. Carbonate Platform Facies Models. The American Association of Petroleum Geologists Bulletin 69 : 1-21.
Scholle, P.A., 1978. A Color Illustrated Guide to Carbonate Rock Constituents, Textures, Cements, and Porosities.
American Association of Petroleum Geologists Memoir 27 : 241 pp.
Tucker, M.E. and Wright, V.P., 1990. Carbonate Sedimentology. Blackwell Scientific Publications Oxford, London, Edinburg, Cambridge: 482 pp.
Ulmer-Scholle and Mosley, 2000. Sedimentary Petrography. Geology 424/524. Via < http://www.ees.nmt.edu/ Geol/classes/geoI524/homepage.html > (20/02/2006).
Waite, L.E., 2002. Carbonate Depositional Systems. In Earth System Science. Via < http://www.geocomplexity.com/Earth_systems.html> (06/03/2006).
Wilson, J.L. 1975. Carbonate Facies in Geologic History. Sprlnqer-Verlaq New York, Heidelberg, Berlin: 471 pp.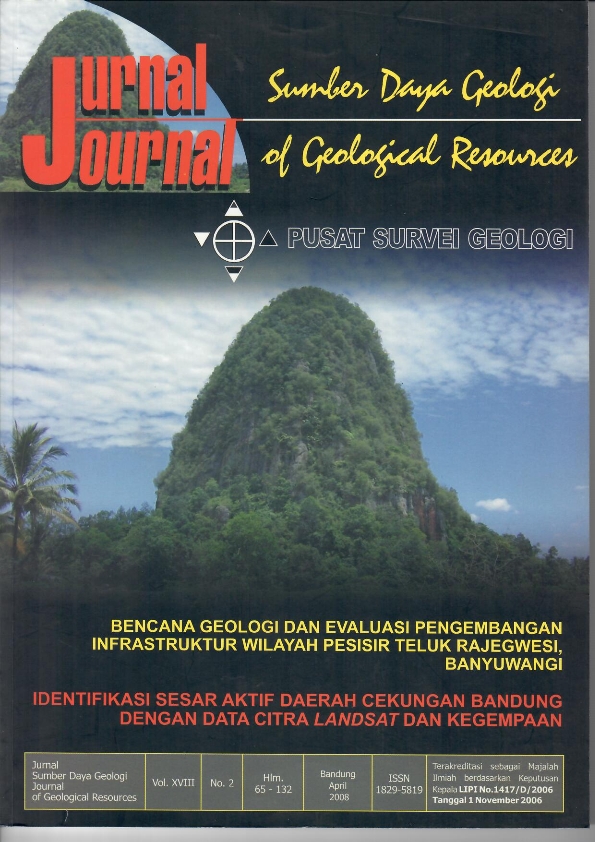 Downloads
License
Authors who publish articles in Jurnal Geologi dan Sumberdaya Mineral (JGSM.Geologi) agree to the following terms:
Authors retain copyright of the article and grant the journal right of first publication with the work simultaneously licensed under a CC-BY-NC or The Creative Commons Attribution–ShareAlike License.
Authors are able to enter into separate, additional contractual arrangements for the non-exclusive distribution of the journal's published version of the work (e.g., post it to an institutional repository or publish it in a book), with an acknowledgment of its initial publication in this journal.
Authors are permitted and encouraged to post their work online (e.g., in institutional repositories or on their website) prior to and during the submission process, as it can lead to productive exchanges, as well as earlier and greater citation of published work (See The Effect of Open Access)