MORFOSTRATIGRAFI TUF IGNIMBRIT MANINJAU DI NGARAI SIANOK, DUSUN BELAKANG BALOK-BUKITTINGGI, SUMATERA BARAT
Abstract
The ignimbtrite plato of Sianok Valley at Belakang balok Village was produced by two periods of Maninjau volcanic eruptions. The two eruption periods are separated by fluvio volcanic deposits, consisting of very qoarse sand and conglomerate. The two periods pyroclatic deposits at containing pumice and locally several coal.  These pyroclatic deposits were faulted and formed terrace morphology. The Sianok Valley is considered as an effect of the reactivation of basement fault throughting the ignimbrite deposits.
 
Keywords:morphostratigraphy , Maninjau pumice tuf, terrace, fault, plato
Downloads
Download data is not yet available.
References
Bemelen, R.W. van, (1949). The Geologi of Indonesia, V. IA General Geology, The hague, Martin us Nijhof.
Kastowo, Gehard.W. L, Gafoer. S. dan Amin T.C, 1997. Peta Geologi Lembar Padang, Sumatera, skala 1:250.000, Puslitbang Geologi, Bandung.
Katili, J.A. dan Hehuwat. F., 1967. On the Occurrence of Large Trancurrent Faults in Sumatra, Indonesia, Jur. Geosciences, Vol.10, Art. 1-1, Osaka.
Poedjoprajitno S., 2007. Morfotektonik dan reaktivitas sesar Sumatera di Padangpanjang, Sumatera Barat, Jurnal Sumber Daya Geologi Vol. XVII, No. 3, Bandung. Selby, M.J, 1985. Earth changing surface, Oford University Press.
Tjia, H. D. 1977. Tectonic depression along the transcurrent Sumatera fault zone, Geol. Indonesia, J 4. 1 : 13-27.
Verstappen, H. Th., 1973. A geomorphological reconnaissance of Soematra and adjacent island (Indonesia), ITC, The Netherlands, 182 p.
Verstappen, H Th. 2000. Outline of the Geomorphology of Indonesia. A case study on tropical geomorphology of a tectogene region, ITC-Division of Applied Geomorphological Survey (AGS), The Netherlands, 212p.
Westerfeld, 1953. Eruptions of acid pumice tufts and related phenomena along the great Sumatern fault-trough system: Pasific Sci. Cong., 7â€, New Zealand, 1949, Proc. 2 :
-438.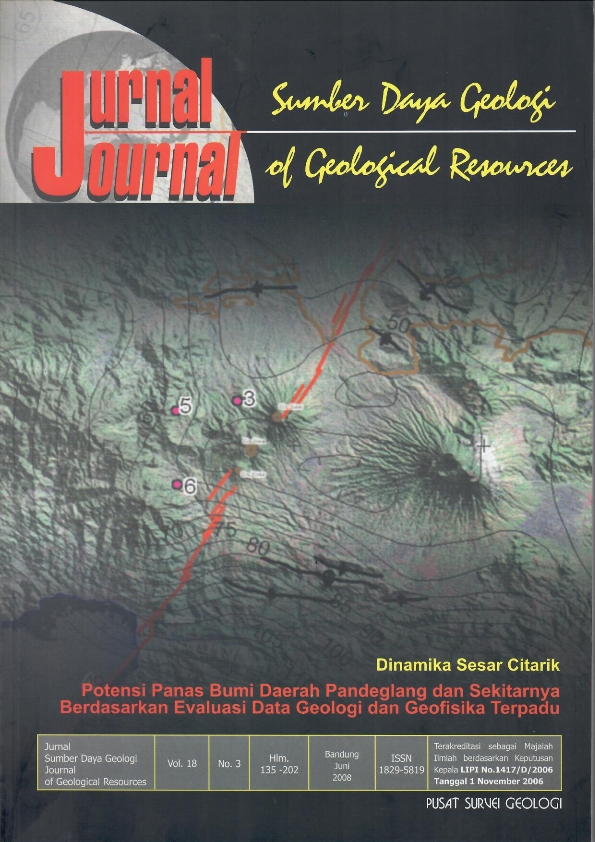 Downloads
License
Authors who publish articles in Jurnal Geologi dan Sumberdaya Mineral (JGSM.Geologi) agree to the following terms:
Authors retain copyright of the article and grant the journal right of first publication with the work simultaneously licensed under a CC-BY-NC or The Creative Commons Attribution–ShareAlike License.
Authors are able to enter into separate, additional contractual arrangements for the non-exclusive distribution of the journal's published version of the work (e.g., post it to an institutional repository or publish it in a book), with an acknowledgment of its initial publication in this journal.
Authors are permitted and encouraged to post their work online (e.g., in institutional repositories or on their website) prior to and during the submission process, as it can lead to productive exchanges, as well as earlier and greater citation of published work (See The Effect of Open Access)