PENYEBARAN BATUAN GRANIT DAN SEDIMEN KUARTER BERDASARKAN INTERPRETASI DATA SEISMIK DI PERAIRAN BATAM UTARA
Abstract
Results of mappings and publications concerning the distribution  of granite and Quaternary sediments in territorial waters of Batam Island and its surroundings are still limited.  It is caused by the distribution of the granite which emerges to sea bottom in territorial waters in the  part of the North  Batam  and its surroundings  is also limited.  Results of seismic interpretation show the existence of some reflector characteristics of the granite and the Quaternary sediments. Based on the interpretation model at bedrock and the Quaternary sediment, distribution area of the bedrock is in part of west and north of Batam Island and also in the part of the north of Bintan Island. While the Quaternary sediment, based on reflector seismic characters, is coarse fluvial deposits at the bottom as the channel fill between some domes of granite body and recent marine deposits at the top. If the bedrock is correlated with regional geology in territorial water of the Batam Island and its surroundings,the bedrock is granite.
 
Keywords: granite, bedrock, Quatenary sedimen,seismic interpretation ,North Batam
Downloads
Download data is not yet available.
References
Cobing, EJ., 1992, The Granite of the South-East Asian Tin Belt. British Geological Survey, London.
Priyono, A., 2000, lnterpretasi Geologi Seismik. Diktat Kuliah Program Pasca Sarjana Geologi dan Geofisika lnstitut Teknologi Bandung, Jurusan Geofisika lnstitut Teknologi Bandung, 255 hal.
Ringis, J., 1993, Deposit Models for Detrital Heavy Minerals on East Asian Shelf Areas and the Use of High Resolution Seismic Profiling Techniques in Their Exploration. CCOP Publication.
Sangree, JB. and JM. Wiedmier, 1979, Interpretation Facies from Seismic Data, Geophysic 44,N.2, p.131. Sherif, RE., 1980, Seismic Stratigraphy. International Human Resources Development Corporation, Boston, P.222.
Usman, E., A. Setyanto, L. Gustiantini. Y. Permanawati, IKG. Aryawan, Subarsyah, Sahudin dan Hartono, 2005, Penelitian Geologi dan Potensl Energi dan Sumbec Daya Mineral Bersistem (LP• l017) Batam - Riau Kepulauan, Pusat Penelitian dan Pengembangan Geologi Kelautan (Lap.Intern), 118 hal.
Yoo, DG. and SC. Park, 2000, High Resolution Seismic Study as a Tool for Sequence Stratigraphic Evidence of High Frequency Sea Level Changes, Latest Pleistocene-Holocene Example from Korea Strait. Journal of Sedimentary Research, Vol. 70 No. 2, p.296-309.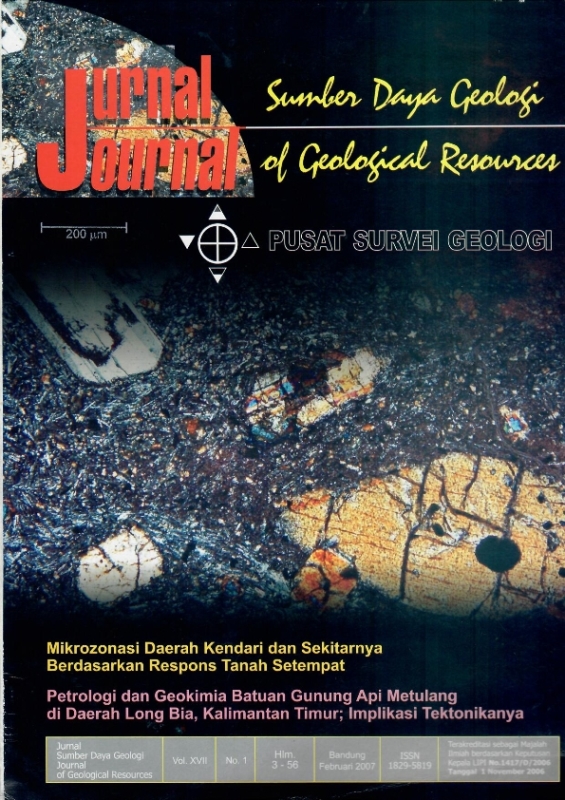 Downloads
License
Authors who publish articles in Jurnal Geologi dan Sumberdaya Mineral (JGSM.Geologi) agree to the following terms:
Authors retain copyright of the article and grant the journal right of first publication with the work simultaneously licensed under a CC-BY-NC or The Creative Commons Attribution–ShareAlike License.
Authors are able to enter into separate, additional contractual arrangements for the non-exclusive distribution of the journal's published version of the work (e.g., post it to an institutional repository or publish it in a book), with an acknowledgment of its initial publication in this journal.
Authors are permitted and encouraged to post their work online (e.g., in institutional repositories or on their website) prior to and during the submission process, as it can lead to productive exchanges, as well as earlier and greater citation of published work (See The Effect of Open Access)