PENAFSIRAN REKAMAN SEISMIK PANTUL DANGKAL SALURAN TUNGGAL DI PERAIRAN KABAENA, MUNA DAN BUTON, SULAWESI TENGGARA
Abstract
East Sulawesi terrane, generally called East Sulawesi Ofiolite, consists of ultramafic rock underlying pelagic sediment as a top layer. The rock is interpreted as a basement rock in  the East Sulawesi  Terrane which was formed during early Cretaceous. This ultramafic rock tectonically contacted with Mesozoicum and Paleogen ones, and unconformably overlied by molasses sediment type on the top.
A number of single channel seismic profiling has been carried out and passing through between Kabaena, Muna and Buton islands.  Based on outcropping  and distribution  of rock units on those three islands, the seismic lines were made to get a clear geological  setting under the seafloor. Differentiation  of internal configuration  reflector of the seismic  records which  Interrelated  to rock unit on the islands have been interpreted very clearly. The study of seismic single channel records will be more accurate if it is correlated to the offshore drilling data in order to make an estimation of internal configuration reflectors to be definitely  correct.
 
Keywords: Â terrane, tectonic, seismic, interpretation, Buton
Downloads
Download data is not yet available.
References
Hadikusumo, S., Lubis S., Darwis N., Astawa, I.N., Hartosukoraharjo, S., 1984. Laporan Penyelidikan Seismik Pantul Dangkal Di Daerah Perairan Kepulauan Muna, Kabaena dan Buton, Sulawesi Tenggara. Pusat Pengembangan Geologi Kelautan, Bandung, tidak dipublikasikan.
Hartono, HMS dan Tjokrosapoetro S., 1984. Peta Geologi Lembar Buru,Maluku, Skala 1 : 250.000. Pusat Penelitian dan Pengembangan Geologi, Bandung.
Sikumbang, N., Sanyoto P., Supandjono R.J.B., dan Gafoer S., 1995. Peta Geologi Lembar Buton, Sulawesi Tenggara. Pusat Penelitian dan Pengembangan Geologi, Bandung
Simandjuntak, T.O., 1986. Sedimentology and tectonic of the collision complex in the east arm of Sulawesi, Indonesia. PhD thesis, University of London, London, tidak dipublikasikan.
Simandjuntak, T.O., Surono dan Sukido, 1993. Peta Geologi Lembar Kolaka, Sulawesi, Pusat Penelitian dan pengembangan Geologi, Bandung.
Smith, R.8.,1983. Sedimentary and tectonics of a Miocene collission oomplex and overlying late orogenic elastic stata: Buton island, Eastern Indonesia. Unpubl. Ph.D. thesis, University of California, Santa Cruz.
Sukamto, R., 197 5a. Peta Geologi Indonesia Lembar Ujung Pandang, Direktorat Geologi Bandung.
Sukamto, l 975b. The structure of Sulawesi in the light of plate tectonic. Paper presented in the Regional Conference of Geology and Mineral Resources, SE Asia, Jakarta.
Wiryosujono, S. dan Hainim, J.A., 1975. Cenozoic sedimentation in Buton island, Southeast Sulawesi. Proc.Reg. Cont. Geol. Min. Res. S.E. Asia. p. 109 119.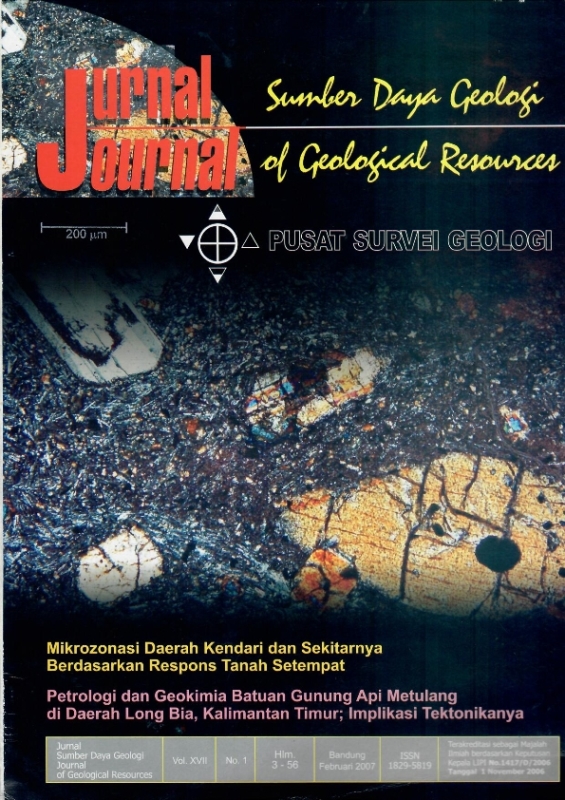 Downloads
License
Authors who publish articles in Jurnal Geologi dan Sumberdaya Mineral (JGSM.Geologi) agree to the following terms:
Authors retain copyright of the article and grant the journal right of first publication with the work simultaneously licensed under a CC-BY-NC or The Creative Commons Attribution–ShareAlike License.
Authors are able to enter into separate, additional contractual arrangements for the non-exclusive distribution of the journal's published version of the work (e.g., post it to an institutional repository or publish it in a book), with an acknowledgment of its initial publication in this journal.
Authors are permitted and encouraged to post their work online (e.g., in institutional repositories or on their website) prior to and during the submission process, as it can lead to productive exchanges, as well as earlier and greater citation of published work (See The Effect of Open Access)