Sedimentologi dan Diagenesis Batugamping Formasi Wonosari di Ngrijang Sengon, Pacitan, Jawa Timur
Abstract
Geosite Ngrijang Sengon adalah salah satu lokasi di kawasan geopark Gunungsewu. Penelitian geologi ini diperlukan untuk mendukung pengusulan kawasan ini sebagai destinasi geopark internasional. Pembahasan utama penelitian ini meliputi perkembangan lingkungan pengendapan dan rekaman proses diagenesis pada batugamping yang tersingkap di lokasi Ngrijang Sengon, Kabupaten Pacitan, Provinsi Jawa Timur. Analisis petrografi telah dilakukan terhadap dua puluh dua sampel batugamping memperlihatkan bahwa jenisnya adalah wackestone, packstone, dan floatstone. Lingkungan pengendapan batugamping ini beragam, seperti sayap terumbu, dangkalan laguna dengan sirkulasi air terbuka di bawah dasar gelombang, laut dangkal dengan sirkulasi terbuka di bawah dasar gelombang, lerengan atau cekungan lokal pada dangkalan laguna, tepi lerengan dan landaian pada paparan tertampi, serta teluk hingga kubangan sangat terbatas. Batugamping tersebut telah terpengaruh beragam proses diagenesis, meliputi: bioturbasi, pengisian rongga fosil, penggantian, penyemenan, rekristalisasi, pemikritan, pembentukan mineral authigenik, pemampatan, pelarutan, dan peretakan.
Downloads
Download data is not yet available.
References
Adams A.E. and MacKenzie, W.S., 1998. A color atlas of carbonate sediments and rocks under the microscope. John Wiley & Sons, New York, Toronto, 180 p.
Anonim, 2015. Ngrijangan. http://gunungsewugeopark.com/ngrijangan/ <10/06/2015>.
Asy'ari, M.R., dan Winardi, S., 2014. Hubungan antara evolusi porositas dengan karakteristik diagenesis Formasi Wonosari di Kecamatan Ponjong, Kabupaten Gunungkidul, Provinsi DIY. Prosiding Seminar Nasional Kebumian Jurusan Teknik Geologi, Universitas Gadjah Mada 7: 721-732.
Bathurst, R.G.C., 1975. Carbonate sediments and their diagenesis, second enlarged edition. Elsevier Scientific Publishing Company, New York, Amsterdam, Oxford, 658 p.
Braithwaite, C.J.R., Taylor, J.D., and Glover, E.A., 2000. Marine carbonate cements, biofilms, biomineralization, and skeletogenesis: some bivalves do it all. J. Sed. Res. 70: 1129-1138.
Burgess, P.M., 2008. The nature of shallow-water carbonate lithofacies thickness distributions. Geology 36: 235-238.
Choquette P.W. and Pray, L.W., 1970. Geological nomenclature and classification of porosity in sedimentary carbonates. Am. Assoc. Petrol. Geol. Bull. 54: 207-50.
Dunham, R.J., 1962. Classification of carbonate rocks according to depositional texture. In: W.E. Ham (ed). Classification of carbonate rocks. Am. Assoc. Petrol. Geol. Mem. 1: 108-121.
Embry, A.F. and Klovan, J.E., 1971. A Late Devonian reef tract on north-eastern Banks Island, north west territory. Can. Petrol. Geol. Bull. 19: 730-781.
Ernawan, Y., 2000. Studi taksonomi pembuatan beliung prasejarah di Ngrijang Sengon, Ngrijangan, Gunung Gamping, Kendeng Lembu: Aplikasi analisis kluster Steninhouse dan uji D/MA. Berkala Arkeologi 19(2): 29-47.
Flugel, E., 2004. Microfacies of carbonate rocks: analysis, interpretation and aplication. Springer-Verlag Inc., Berlin, Heidelberg, New York, 976 p.
Flugel, E., 1982. Microfacies analysis of limestones. Springer-Verlag Inc., Berlin, Heidelberg, New York, 633 p.
Folk, R.L., 1962. Spectral subdivisions of limestone types. In: W.E. Ham (ed). Classification of carbonate rocks. Am. Assoc. Petrol. Geol. Mem. 1: 62-85.
Gregg, J.M., 2005. Photographic gallery of carbonate petrology. Via < http://web. umr.edu/~greggjay/Carbonate_Page/photogal.html > (27/2/2006).
Hall, R., 2001. Cenozoic reconstructions of SE Asia and the SW Pacific: changing patterns of land and sea. In Metcalfe, I., Smith, J.M.B., Morwood, M., and Davidson, I.D. (Eds.). Faunal and floral migrations and evolution in SE Asia – Australia. AA Balkema (Swets & Zeitlinger Publisher), Lisse, 35-56.
Harzhauser, M. and Piller, W.E., 2009. Molluscs as a major part of subtropical shallow-water carbonate production – An example from a Middle Miocene oolite shoal (Upper Serravallian, Austria). Int. Assoc. Sedimentol. Spec. Publ. 42: 185-200.
Hobbs, W.O., Lalonde, S.V., Vinebrooke, R.D., Konhausser, K.O., Weidman, R.P., Graham, M.D., and Wolfe, A.P., 2010. Algal.silica cycling and pigment diagenesis in recent alpine lake sediments: mechanisms and paleoecological implications. Journal of Paleolimnol 14: 613-628.
James, N.P., 1991. Diagenesis of carbonate sediments, notes to accompany a short course. Geol. Soc. Austr., 101 p.
Kindler, P. and Hearty, P.J., 1996. Carbonate petrography as an indicator of climate and sea-level change: new data from Bahamian Quarternary units. Sedimentology 43: 381-399.
Kolo, K., Keppens, E., Preat, A., and Claeys, P., 2007. Experimental observations on fungal diagenesis of caebonate substrates. Journal of Geophysical Research 112: 1-20.
Lokier, S., 2000. The Miocene Wonosari Formation, Java, Indonesia: Volcaniclastic influences on carbonate platform development (PhD Project). Southeast Asia Research Group, Departmen of Earth Science, Royal Holloway University of London. (abstract)
Longman, M.W., 1980. Carbonate diagenetic textures from nearsurface diagenetic environments. AAPG Bull. 64: 461-487.
MacKenzie, W.S., Donaldson, C.H., and Guilford, C., 1984. Atlas of sedimentary rocks and their textures. Longman Scientific and Technical, Essex.
Maryanto, S., 2013. Sedimentologi batugamping Formasi Jonggrangan di sepanjang lintasan Gua Kiskendo, Girimulyo, Kulonprogo. Jurnal Sumber Daya Geologi 23: 105-120.
Maryanto, S., 2012. Limestone diagenetic records based on petrographic data of Sentolo Formation at Hargorejo traverse, Kokap, Kulonprogo. Indonesian Journal of Geology 7: 87-99.
Mateu-Vicens, G., Hallock, P. and Brandano, M., 2007. A depositional model and paleoecological reconstruction of the lower Tortonian distally steepened ramp of Menorca (Balearic Island), Spain. Palaios 23: 465-481.
Melim, L.A., Swart, P.K., and Maliva, R.G., 2001. Meteoric and marine-burial diagenesis in the subsurface of Great Bahama bank. SEPM Spec. Publ. 70: 137-161.
Moore, C.H., 1997. Carbonate diagenesis and porosity. Developments in sedimentology 46. Elsevier Science B.V., 338 p.
Mukti, M.M., 2005. Carbonate depositional environment and platform morphology of the Wonosari Formation in the area east of Pacitan. Indonesian Journal of Geology and Mining 15. (abstract).
Munnecke, A., Westphal, H., Reijmer, J.J.G., and Samtleben, C., 1997. Microspar development during early marine burial diagenesis: a comparison of Pliocene carbonates from the Bahamas with Silurian limestone from Gotland (Sweden). Sedimentology 44: 977-990.
Omana, L. and Alencaster, G., 2009. Lower Aptian shallow-water benthic foraminiferal assemblage from the Chilacachapa range in the Guerrero-Morelos platform, south Mexico. Revista Mexiana de Ciencias Geologicas 2: 575-586.
Praptisih, Mukti, M.M., Trisuksmono, J., Siregar, M.S., dan Supriatna, M., 2005. Studi endapan karbonat Formasi Wonosari di daerah Pacitan-Panggul dan kaitannya dengan reservoir hidrokarbon di Jawa selatan. Laporan teknis internal, Pusat Penelitian Geoteknologi LIPI, Bandung (tidak terbit).
Railsback, L.B., 2002. An atlas of pressure dissolution features. Via < http://www. gly.uga.edu/railsback/PDFindex1.html > (20/02/2006).
Ramadan, K.A.Al., Hussain, M., Imam, B., and Saner, S., 2004. Lithologic characteristics and diagenesis of the Devonian Jauf sandstone at Ghawar Field, Eastern Saudi Arabia. Marine and Petroleum Geology 21: 1221–1234
Read, J.F., 1985. Carbonate platform facies models. Am. Assoc. Petrol. Geol. Bull. 69: 1-21.
Samodra, H., Gafoer, S. dan Tjokrosapoetro, S., 1992. Peta Geologi Lembar Pacitan, Jawa, Skala 1:100.000. Pusat Penelitian dan Pengembangan Geologi, Bandung.
Schmid, F., 2011. Flint stratigraphy and its relationship to archaeology. In: Sieveking, G.De.G. and Hart, M.B. (eds.), The scientific study of flint and chert (paperback edition). Cambridge University Press, Cambridge, New York, Melbourne, Madrid, pp. 1-6.
Scholle, P.A., 1978. A color illustrated guide to carbonate rock constituents, textures, cements, and porosities. Am. Assoc. Petrol. Geol. Mem. 27, Tulsa, 241 p.
Siregar, S., Kamtono, Praptisih, and Mukti, M.M., 2004. Reef facies of the Wonosari Formation, south of Central Java. Riset Geologi dan Pertambangan 14:1-17.
Surono, Toha, B., dan Sudarno, I. dan Wiryosujono, S., 1992. Peta Geologi Lembar Surakarta-Giritontro, Jawa, Skala 1:100.000. Pusat Penelitian dan Pengembangan Geologi, Bandung.
Tucker, M.E. and Wright, V.P., 1990. Carbonate sedimentology. Blackwell Scientific Publications, Oxford, London, Edinburg, Cambridge, 482 p.
Ulmer-Scholle and Mosley, 2000. Sedimentary petrography. Geology 424/524. Via < http://www.ees.nmt.edu/Geol/classes/geol524/homepage.html > (20/02/2006).
Vilasi, N., Swennen, R., and Roure, F., 2006. Diagenesis and fracturing of Paleocene-Eocene carbonate turbidite system in the Ionian basin: the example of the Kelcyra area (Albania). Journan of Geochemical Exploration 89: 409-413.
Wilson, J.L. 1975. Carbonate facies in geologic history. Springer-Verlag, New York, Heidelberg, Berlin, 471 p.
Winardi, S., Asy'ari, M.R., dan Diamantha, A.O., 2013. Identifikasi subaerial exposure pada batuan karbonat untuk penentuan zona reservoir dengan studi kasus Formasi Wonosari, Gunungkidul, Yogyakarta. Prosiding Seminar Nasional Kebumian Jurusan Teknik Geologi, Universitas Gadjah Mada 6: 535-554.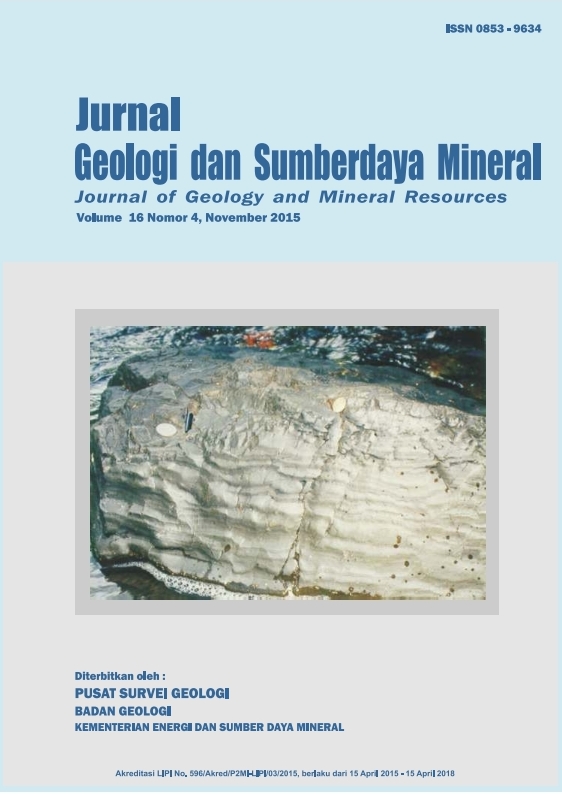 Downloads
License
Authors who publish articles in Jurnal Geologi dan Sumberdaya Mineral (JGSM.Geologi) agree to the following terms:
Authors retain copyright of the article and grant the journal right of first publication with the work simultaneously licensed under a CC-BY-NC or The Creative Commons Attribution–ShareAlike License.
Authors are able to enter into separate, additional contractual arrangements for the non-exclusive distribution of the journal's published version of the work (e.g., post it to an institutional repository or publish it in a book), with an acknowledgment of its initial publication in this journal.
Authors are permitted and encouraged to post their work online (e.g., in institutional repositories or on their website) prior to and during the submission process, as it can lead to productive exchanges, as well as earlier and greater citation of published work (See The Effect of Open Access)