LONGSORAN RAKSASA GUNUNG API MERAPI YOGYAKARTA – JAWA TENGAH
Abstract
Longsoran raksasa merupakan longsoran sangat besar kerucut gunung api komposit ke arah tertentu sehingga membentuk kawah bukaan tapal kuda, yang dihadapannya terlampar endapan berbentuk topografi gumuk. Penyelidikan lapangan di daerah Godean dan sekitarnya, Kabupaten Sleman Yogyakarta telah menemukan endapan longsoran raksasa dari G. Merapi, yang membentuk topografi gumuk di tepi utara perbukitan batuan gunung api purba Godean. Sebaran sisa endapan longsoran Merapi itu menutupi area berukuran 2 km x 2 km dan ketinggian gumuk kurang dari 30 m di atas dataran di sekitarnya. Endapan longsoran masih sangat lepas, berupa fasies bongkah berlapis, yang tersusun oleh endapan piroklastika, aliran lava dan endapan rombakan. Seluruh endapan mengalami frakturasi sangat kuat, membentuk rekahan gergaji dan sesar minor sebagai akibat gerakan longsor. Endapan longsoran ini dapat terawetkan karena membentur dan tertahan oleh perbukitan batuan Tersier Godean. Dari G. Merapi sampai Godean endapan longsoran itu bergerak sejauh 30 – 35 km dengan volume mencapai 10 km3 dan daerah terlanda mencapai 300 km2. Ke arah selatan, material longsoran berubah menjadi aliran lahar, yang melanda daerah Bantul sampai di wilayah Pandak, berjarak 50 km dari G. Merapi. Di bagian barat lahar mengalir melalui K.Progo dan di sebelah timur mengikuti K. Bedog. Di bagian tengah endapan lahar tertahan oleh perbukitan batuan Formasi Sentolo sehingga menyisakan banyak bongkah besar andesit di wilayah Sedayu. Untuk mengantisipasi terulangnya bencana katastrofik longsoran G. Merapi pada masa mendatang diperlukan mitigasi yang lebih seksama.

Kata kunci: Godean, longsoran raksasa, lahar, Merapi, Yogyakarta
Downloads
Download data is not yet available.
References
Anonim, 2014. Laporan studi geolistrik daerah Gesikan, Bantul Yogyakarta, Balai Benih Ikan Dinas Kelautan dan Perikanan, Pemerintah Kabupaten Bantul, Yogyakarta: 20 h. (tidak diterbitkan).
Barianto D.H., 2009. Geological Analysis and Remote sensing on Tertiary Stratigraphy and geological structure of Yogyakarta and vicinity, Jawa Island, Indonesia, doctoral thesis, Kyushu University, Fukuoka, (unpubl.).
Bronto, S. 1989. Volcanic Geology of Galunggung, West Java, Indonesia, PhD Thesis, Canterbury University, New Zealand: 490 p. (unpubl.).
Bronto, S., 1995. Volcanic debris avalanches and lahars on Galunggung, Merapi and Kelut, Java, Indonesia. Proceedings The Workshop on Debris Avalanche and Debris Flow of Volcano, Science and Technology Agency, Japan, March 7-11: 21-57.
Bronto, S., 2001, Volcanic debris avalanches in Indonesia, Proceed. the 3rd Asian Sympos. on Engin. Geol. and the Environm. (ASEGE), Yogyakarta, Sept. 3-6: 449-462.
Bronto, S., 2013. Geologi Gunung Api Purba, cetakan ke 2, Badan Geologi Kementerian ESDM, Bandung: 184 h.
Bronto, S., 2014. Pengembangan dan terapan geologi gunung api, Pusat Survei Geologi, Badan Geologi, K-ESDM (in press).
Bronto, S. Dan Hartono, G., 2002. Longsoran gunung api dan bahayanya, Simposium Nasional Pencegahan Bencana Sedimen, 12-13 Maret 2002, Sabo Technical Centre, Kerjasama Ditjend. Sumber Daya Air, Dept. Kimpraswil. dengan JICA, Maguwoharjo, Sleman, Yogyakarta: 413 – 426.
Glicken, H., 1986. Rockslide-debris avalanche of May 18, 1980, Mount St. Helens Volcano, Washington. PhD thesis, Univ. of California, Santa Barbara: 303 p. (unpubl.).
Lipman, P.W. and Mullineaux, D.R. (Eds.). The 1980 eruptions of Mount St. Helens. Washington, U.S. Geological Survey Prof. Paper 1250: 844 p.
Nakamura, Y. and Glicken, H., 1997. Debris avalanche deposits of the 1888 eruption, Bandai Volcano, in: Bandai Volcano. Resent Progress on Hazard Prevention, Research Group for the Origin of Debris Avalanche, Science and Technology Agency, Japan: 135 - 147.
Neumann van Padang, M., 1939. Uber die vielen tausend Hugel im westlichen Vorlande des Raoeng-Vulkans (Ost Java). De Ingenieur in Nederlandch Indie Jaargaang 6, no. 4, sect. 4: 35-41.
Neumann van Padang, M., 1951. Catalogue of the Active Volcanoes of the World Including Solfatara Fields. Part I Indonesia, International Volcanology Association, Via Tasso I99, Napoli, Italia, 271 p.
Newhall, C.G., Bronto, S., Alloway, B., Banks, N.G., Bahar, I., del Marmol, M.A., Hadisantono, R.D., Holcomb, R.T., McGeehin, J., Miksic, J.N., Rubin, M., Sayudi, D., Sukhyar, R., Andreastuti, S., Tilling, R.I., Torley, R., Trible, D. and Wirakusumah, A.D., 2000. 10,000 Years of explosive eruptions of Merapi Volcano, Central Java: Archaeological and modern implications, J. Volcanol. and Geoth. Res., 100 : 9-50.
Ngkoimani, L.O., 2005. Magnetisasi pada batuan andesit di pulau Jawa serta implikasinya terhadap paleomagnetisme dan evolusi tektonik. Disertasi S3, ITB: 110 h. (tidak diterbitkan).
Permanadewi, S., Saefudin, I. dan Siregar, D.A., 2008. Kecepatan pergerakan magma dasit ke permukaan di daerah Purworejo dan sekitarnya, Jawa Tengah berdasarkan analisis penarikhan jejak belah, Jurnal Sumber Daya Geologi, v.18 no.4: 223 - 230.
Rahardjo, W., Sukandarrumidi dan Rosidi, H.M.D., 2012. Peta Geologi Lembar Yogyakarta, Jawa, skala 1 : 100.000, cetakan ke 3, PSG, Bandung.
Siebert, L., 1984, Large volcanic debris avalanches: Characteritics of source areas, deposits and associated eruptions, Jour. Volc. Geoth. Res., v. 66: 367-395.
Siebert, L., Glicken, H. dan Ui, T., 1987. Volcanic hazards from Bezymianny- and Bandai Types Eruptions, Bull. Volcanol., v. 49: 435 – 459.
Siebert, L., S. Bronto, I. Supriatman and R. Mulyana, 1997, Massive debris avalanche from Raung Volcano, Eastern Java, abstract, IAVCEI General Assembly, Jan. 19-24, 1997, Puerto Vallarta, Mexico.
Soeria-Atmadja, R., Maury, R.C., Bellon, H., Pringgoprawiro, H., Polve, M., dan Priadi, B., 1994. Tertiary magmatic belts in Java, Journal of Southeast Asian Earth Sciences, v. 12: 13-27.
Ui, T., 1983. Volcanic dry avalanche deposits – Identification and comparison with non-volcanic debris stream deposits, J. Volcanol. Geoth. Res., v. 22: 163-197.
Ui, T., 1997. Characterization of debris avalanches associated with volcanic activity, in: Bandai Volcano. Resent Progress on Hazard Prevention, Research Group for the Origin of Debris Avalanche, Science and Technology Agency, Japan: 149-154.
Ui, T., Yamamoto, H. and Suzuki-Tamata, K., 1986. Characterization of debris avalanche deposits in Japan, J. Volcanol. Geoth. Res., v. 29: 231 – 243.
Van Bemmelen, R.W., 1949. The Geology of Indonesia, Vol. IA, Martinus Nijhoff, the Hague: 732 p.
Voight, B., Glicken, H., Janda, R.J. and Douglass, P.M., 1981. Catastrophic rockslide-avalanche of May 18. In: P.W. Lipman and D.R. Mullineaux (Eds.), The 1980 eruptions of Mount St. Helens. Washington, U.S. Geological Survey Prof. Paper 1250, v. 98: 347-377.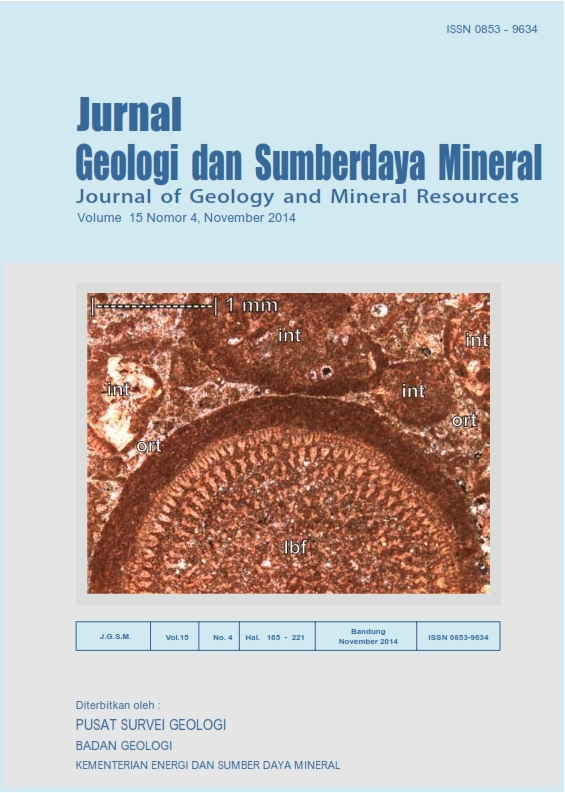 Downloads
License
Authors who publish articles in Jurnal Geologi dan Sumberdaya Mineral (JGSM.Geologi) agree to the following terms:
Authors retain copyright of the article and grant the journal right of first publication with the work simultaneously licensed under a CC-BY-NC or The Creative Commons Attribution–ShareAlike License.
Authors are able to enter into separate, additional contractual arrangements for the non-exclusive distribution of the journal's published version of the work (e.g., post it to an institutional repository or publish it in a book), with an acknowledgment of its initial publication in this journal.
Authors are permitted and encouraged to post their work online (e.g., in institutional repositories or on their website) prior to and during the submission process, as it can lead to productive exchanges, as well as earlier and greater citation of published work (See The Effect of Open Access)