Identifikasi Mineral Lempung pada Formasi Warukin di Daerah Kandangan, Provinsi Kalimantan Selatan Berdasarkan Data Pengujian ASDngan, Provinsi Kalimantan Selatan Berdasarkan Data Pengujian ASD
Abstract
Penelitian ini dilakukan untuk mengetahui jenis mineral lempung yang terkandung pada batulemung penyusun Formasi Warukin yang dijumpai di daerah Kandangan, Kalimantan Selatan. Sejumlah 10 sampel batulempung telah diambil untuk analisis laboratorium metode ASD. Peralatan pengujian metode ASD di Pusat Survei Geologi dapat digunakan untuk menentukan jenis mineral lempung yang tidak terekam pada pengamatan petrografi. Jenis mineral lempung yang dijumpai terdiri atas kaolinit dan illit, dan mineral bukan-lempung yang teridentifikasi adalah klinoklor, silika dan mineral Fe+3. Batuan sumber formasi ini adalah batuan kaya feldspar atau batuan granitik pada lingkungan tektonik orogenesa yang terdaur-ulang.

Katakunci: Formasi Warukin, batulempunng, kaolinit, illit, granitik.


Downloads
Download data is not yet available.
References
Bonnet, A.L., and Corriveau, L., 2007. Alteration Vectors to Metamorphosed Hydrothermal Systems in Gneissic Terranes. In: Goodfellow, W.D. (ed.). Mineral Deposits of Canada: A Synthesis of Major Deposit-Types, District Metallogeny, the Evolution of Geological Provinces, and Exploration Methods. Geological Association of Canada, Mineral Deposits Division, Special Publication 5: 1035-1049.
Browne, P.R.L., 1984. Subsurface Stratigraphy and Hydrothermal Ateration of Eastern Section of the Olkaria Geothermal Field, Kenya. Proceedings of the 6th New Zealand Geothermal Workshop, Geothermal Institute, Auckland, 33-41.
Camuti, K., 2008. Clay Minerals, Alteration and Terry's pH-Temperature Table. Lantana Exploration (power point presentation).
Dirk, M.H.J. dan Amiruddin, 2000. Batuan Granitoid. Dalam: Hartono, U., Sukamto, Surono dan Panggabean, H. (Ed.). Evolusi Magmatik Kalimantan Selatan. Publikasi Khusus Pusat Survei Geologi, 23: 37-51.
Henley, R.W. and Ellis, A.J., 1983. Geothermal Systems Ancient and Modern: A Gochemical Review. Earth Science Rev., 19: 1-50.
Heryanto, R. dan Panggabean, H., 2013. Lingkungan Pengendapan Formasi Pembawa Batubara Warukin di Daerah Kandangan dan Sekitarnya, Kalimantan Selatan. Jurnal Sumber Daya Geologi, 23(2): 93-103.
Heryanto, R. dan Margono, U., 2008. The Provenance and Diagenesis of the Eocene Tanjung Formation in the Kualakurun Area, Central Kalimantan. Jurnal Sumber Daya Geologi, 18(5): 291-298.
Heryanto, R. dan Panggabean, H., 2004. Fasies, Sedimentologi Formasi Tanjung di Bagian Barat, Tengah dan Timur Tinggian Meratus, Kalimantan Selatan. Jurnal Sumber Daya Geologi, 14(3): 78-93.
Heryanto, R., Sutrisno, Sukardi, dan Agustiyanto, D.A., 1998. Peta Geologi Lembar Belimbing, Kalimantan, Skala 1:100.000. Pusat Penelitian dan Pengembangan Geologi, Bandung.
Inoue, A., Lanson, B., Fernandes, M.M., Sakharov, B.A., Murakami, T., Meunier, A., and Beaufort, B., 2006. Illite-Smectite Mixed-Layer Minerals in Hydrothermal Alteration of Volcanic Rocks: One-Dimensional XRD Structure Analysis and Characterization of Component Layers. Department of Earth Sciences, Chiba University, Chiba 263-8522, Japan.
Jenkins, R. and Snyder, R.L., 1996. Introduction to X-ray Powder Diffractometry. John Wiley & Sons Inc., New York.
Kusumah, K.D., Jamal, dan Maryanto, S., 2016. Geologi Lembar Binuang Skala 1:50.000, Kalimantan Selatan. Pusat Survei Geologi Bandung.
Laboratorium Pusat Survei Geologi, 2009. Metode Uji Mineralogi, Terbitan 2. Dokumen Mutu Internal, Pusat Survei Geologi.
Lazaro, B.B., 2015. Halloysite and Kaolinite: Two Clay Minerals with Geological and Technological Importance. Rev. Real Academica de Ciencias Zaragoza, 70: 7-38.
Mantovani,M., Escudero, A. and Becerro, I., 2010. Effect of Pressure on Kaolinite Illitization. Applied Clay Science, 50: 342-347.
Margono, U., Sutrisno dan Susanto, E., 1997. Peta Geologi Lembar Kandangan, Kalimantan Selatan Skala 1:100.000. Pusat Penelitian dan Pengembangan Geologi, Bandung.
Maryanto, S., 2018. Metode Analytical Spectral Devices (ASD) untuk Identifikasi Mineral Lempung pada Batuan Sedimen di Daerah Binuang, Kalimantan Selatan. Di: Panggabean, H. dkk. (ed). Pengembangan Metode laboratorium dan Sarana Penyelidikan. Pusat Survei Geologi, Bandung: 63-78. ISBN: 978-979-551-062-8.
Maryanto, S., 2011. Uji repetisi sampel standar sebagai upaya jaminan mutu hasil pengukuran dengan peralatan difraksi sinar-X di lingkungan Laboratorium Pusat Survei Geologi. Publikasi Khusus Kumpulan Makalah Sarana Teknik Pusat Survei Geologi, 39: 73-85.
Moore, D.M. and Reynolds, R.C.Jr., 1989. X-ray Diffraction and the Identification and Analysis of Clay Minerals. Oxford University Press, Oxford.
Santy, L.D., 2014. Diagenesis Batupasir Eosen di Cekungan Ketungau dan Melawi, Kalimantan Barat. Jurnal Geologi dan Sumberdaya Mineral, 15(3): 117-131.
Silaban, M.S.P., 2001. Studi Mineral Lempung Hidrotermal dan Aplikasinya untuk Operasi Pemboran Panasbumi (Studi Kasus: Prospek Panasbumi Ulubelu, Lampung. Proceeding 5th Inaga Annual Scientific Conference and Exhibitions, Yogyakarta.
Sudirman, M.R. dan Hidayat, R., 2015. Studi Provenance dan Granulometri pada Singkapan Batupasir Formasi Balikpapan pada Daerah Palaran dan Sanga-sanga, Cekungan Kutai, Kalimantan Timur. Prosiding Seminar Nasional ke-8, Academia-Industry Lingkage. Grha Sabha Pramana, Yogyakarta.
Tomita, K., Koiso, M., Yamamoto, M., and Oba, N., 1979. Clay Minerals in the Altered Andesites in Yokogawa-Cho, Kagoshima Perfecture. Rep. Fac. Sci. Kagoshoma Univ (Earth Sci. & Biol.), 12: 21-31.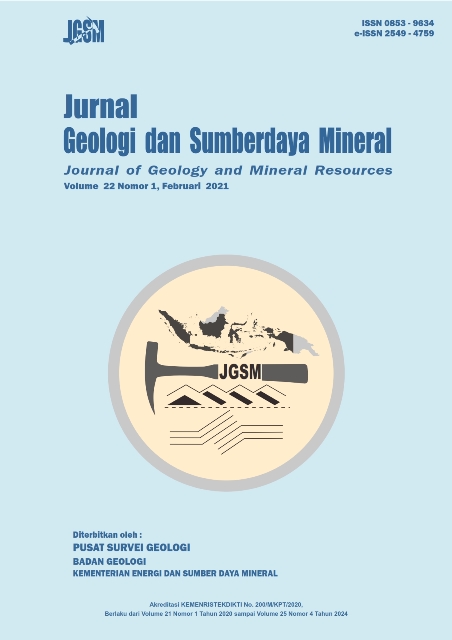 Downloads
License
Authors who publish articles in Jurnal Geologi dan Sumberdaya Mineral (JGSM.Geologi) agree to the following terms:
Authors retain copyright of the article and grant the journal right of first publication with the work simultaneously licensed under a CC-BY-NC or The Creative Commons Attribution–ShareAlike License.
Authors are able to enter into separate, additional contractual arrangements for the non-exclusive distribution of the journal's published version of the work (e.g., post it to an institutional repository or publish it in a book), with an acknowledgment of its initial publication in this journal.
Authors are permitted and encouraged to post their work online (e.g., in institutional repositories or on their website) prior to and during the submission process, as it can lead to productive exchanges, as well as earlier and greater citation of published work (See The Effect of Open Access)