GEOLOGI KUARTER DATARAN PANTAI JEPARA, JAWA TENGAH
Abstract
Untuk mengetahui dinamika Kuarter di daerah penelitian, urut-urutan lingkungan pengendapan baik secara vertikal dan mendatar perlu dilakukan. Selain itu, untuk menafsirkan proses pengisian cekungan sedimen, korelasi beberapa penampang stratigrafi sangat diperlukan. Pengumpulan data geologi bawah permukaan dilakukan dengan pemboran dangkal menggunakan bor tangan. Sejumlah 52 pemboran telah dilakukan dengan kedalaman maksimum 11,50 m dan total kedalalaman 268,61m. Berdasarkan data tersebut diketahui bahwa satuan batuan di daerah ini dapat dipisahkan Tanah penutup (S), endapan dataran banjir (FP), endapan cekungan banjir (FB), endapan alur Sungai Purba), endapan pasir dataran pantai (B), endapan pasir pematang pantai (BS), endapan rawa bakau (SW), endapan paya (LG), koral / reef (Q), endapan laut dangkal (SM), endapan volkanik / (V), endapan pre-Holosen (pHs). Secara vertikal kombinasi urut-urutan lingkungan pengendapan tersebut menghasilkan 16 tipe penampang. Hasilnya beberapa fenomena geologi dapat diamati seperti adanya perulangan lingkungan endapan rawa, satu indikasi daerah yang mengalami penurunan secara perlahan lahan. Kehadiran endapan volkanik muda berupa tuf dapat ditafsirkan sebagai hasil aktivitas Gunung api Muria paling Muda. Indikasi proses-proses progradasi atau retrogradasi garis pantai ditunjukkan oleh proporsi mangrove yang perlahan-lahan semakin berkurang sementara polen-polen grassland semakin meningkat. Dari kedalaman 150 cm, kecenderungan perubahan itu berbalik yaitu proporsi polen-polen mangrove semakin bertambah sementara polen-polen grassland semakin berkurang. Secara umum kondisi cekungan sedimen pada saat proses pengendapan adalah dalam kondisi tenang (stabil). Dengan demikian abrasi tidak berhubungan dengan kegiatan tektonika.

Kata kunci : Dinamika kuarter, retrogradasi, progradasi, kondisi tenang
Downloads
Download data is not yet available.
References
Caratini C., Tissot C., 1988. Paleographical evolution of Mahakam Delta in Kalimantan, Indonesia during the Quaternary and Late Pliocene. Review of Paleobotany and Palynology. 55, p.217-228
Cohen, K.M., Gouw, M.J.P., Holten, J.P., 2003. Fluvio-deltaic floodbasin deposits recording differential subsidence within a coastal prism (central rhine-meuse delta, The Netherlands. Dalam Blum, M.D., Marriott, S.B. dan Leclair, S.F. (eds.), Fluvial Sedimentology vii. Int. Assoc. of Sedimentologist, Blackwell Scientific: 40-68.
Bronto S., dan Sri Mulyaningsih., 2007. Gunung api maar di Semenanjung Muria. Jurnal Geologi Indonesia. v.2 , no.1: 43-54.
Dickinson, W.R. 1974. Plate Tectonics and Sedimentation. In Dickinson, W.R. ed. Tectonics and Sedimentation: 1-27. Society of Economic Paleontologists and Mineralogists, Tulsa.
Lumban Batu, U.M., Suyatman Hidayat, Woro Sri Sukapti, dan Emma Yan Patriani, 2013. Laporan Akhir Pemetaan Geologi Kuarter Skala 1 : 50.000 Lembar Jepara, Jawa Tengah. Laporan intern, Pusat Survei Geologi, Badan Geologi Bandung (Tidak diterbitkan)
Mason, O.K., 1990. Beach Ridge Geomorphology of Kotzebue Sound: Implications or Paleoclimatology and Archeology. PhD Dissertation, University of Alaska, 262 p.
Mallard, D., Hays, W., and Serva, L., 1991. Earthquake and associated topics in relation to NPP siting. Revision I. Code of Practice. Safety Standard Series 50-SG-S1, IAEA, 70 p.
Mitchell, A.H.G. & Reading, H.G., 1986. Sedimentation and Tectonics. In Reading, H.G. ed. Sedimentary Environments and Facies Second Edition, Blackwell Science, Oxford: 471-519.
McBirney, A.R., Serva, L., Guerra, M., and Connor, C.B., 2003. Volcanic and seismic hazards at a proposed nuclear power site in Central Java. J. Volc. and Geoth. Res. 126: 11-30.
Miall, A.D. 1990. Principles of Sedimentary Basin Analysis - Second Edition. Springer Verlag, New York.
Murray, J.W., 2008. Ecology and Applications of Benthic Foraminifera. Cambridge University Press, New York.
Otvos E.R., 1999. Beach ridges — definitions and significance. Gulf Coast Research Laboratory and USM Department of Coastal Sciences, Ocean Springs, MS 39566-7000, USA, Elsivier.
Phleger, F.B. dan Parker, F.L., 1951. Ecology of Foraminifera Northwest Gulf of Mexico,Part II. Foraminifera Species. The Society of America Memoir 46.
Reineck, H.E.,and I.B. Singh 1973. Depositional Sedimentary Environment. Springer-Verlag Berlin Heidelberg New York.
Serva, L., 2001, Siting of high risk industrial facilities: the role of natural phenomena such as earthquakes. Proceed. of the European Conference on Safety and Reliability, ESREL 2001, Turi. 2: 1257-1264.
Soeka, S., Suminta., Thayib, E. And Sudjaah, T., 1980. Neogen Benthic Foraminiferal Biostratigraphy and Datum-Planes of East Java Basin. Sci. Contr., No. 1, Lemigas, Jakarta.
Suwarti T., dan R. Wikarno., 1992. Peta Geologi Lembar Kudus Skala 1 : 100.000. Pusat Penelitian dan Pengembangan Geologi Bandung.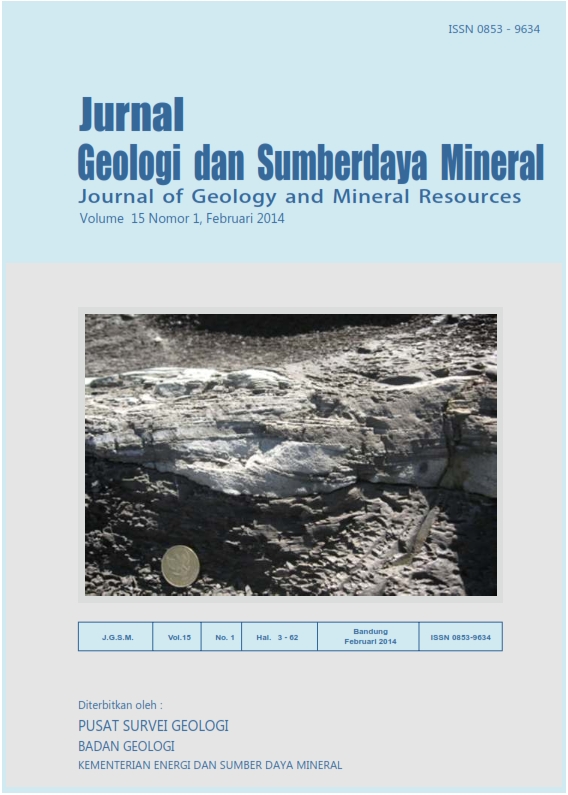 Downloads
License
Authors who publish articles in Jurnal Geologi dan Sumberdaya Mineral (JGSM.Geologi) agree to the following terms:
Authors retain copyright of the article and grant the journal right of first publication with the work simultaneously licensed under a CC-BY-NC or The Creative Commons Attribution–ShareAlike License.
Authors are able to enter into separate, additional contractual arrangements for the non-exclusive distribution of the journal's published version of the work (e.g., post it to an institutional repository or publish it in a book), with an acknowledgment of its initial publication in this journal.
Authors are permitted and encouraged to post their work online (e.g., in institutional repositories or on their website) prior to and during the submission process, as it can lead to productive exchanges, as well as earlier and greater citation of published work (See The Effect of Open Access)