IDENTIFIKASI SESAR AKTIF DI SEPANJANG JALUR KALI GARANG, SEMARANG
Abstract
The Semarang area, located in the northen part of Jawa, is an stable area to the subduction earthquake. There fore the active faults, that are originated from the earthquake, have to be concerned. On the landsat imagery there are some lineaments in the Semarang area meanwhile in the field there are some fault including morphotectonic and geological structure features. The morphotectonic features consist of escarpment, and creeping several segments of Garang River, and geological structure features are offset lithology, dragfold and joint in Quaternary rocks of Damar Formation. Based on analysis of the data, the north-south Kali Garang fault indictes an active fault.

Keyword: semarang, geological structure, Kali Garang fault, active fault
Downloads
Download data is not yet available.
References
Data Katalog Kegempaan Pusat Vulkanologi dan Mitigasi Bencana Geologi (PVMBG), http://www.portal.vsi.esdm.go.id
Davis, G.H., 1996. Structural Geology of Rocks and Regions. The University of Arizona.
http://maps.google.co.id/maps?hl=id&tab=wl
Keller, E.A. and Pinter N., 1996. Active Tectonics (Earthquake, Uplift and Landscape). Prentise Hall, Upper Saddle River, New Jersey 07458
Murwanto, 2008. Kajian geologi dan neotektonik untuk menselaraskan program pembangunan di Wilayah Kota Semarang, Jawa Tengah. Laporan Penelitian Hibah Bersaing, UPN Veteran Yogyakarta (Tidak Dipublikasikan)
Poedjoprajitno S., J. Wahjudiono., dan A. Cita., 2008. Reaktivasi Sesar Kaligarang, Semarang. Jurnal Geologi Indonesia, Vol. 3 No. 3, hal. 129-138
Pramumijoyo, S., 2000. Existing active fault at Semarang, Central Java, Indonesia: revealed by remote sensing and field observation. Proceedings of the HOKUDAN International Symposium and School on Active Faulting. Hyogo, Japan, h.383-385
Stewart, L.S., and P.L. Hancock, 1994. Continental Deformation Neotectonics. Pegamon Press, London, First Edition, pp 370-409
Thanden, R.E., H. Sumardiredja, P.W. Richards, Sutis, K., T.C. Amin, 1996. Peta Geologi Lembar Magelang dan Semarang, Jawa Tengah, skala 1:100.000. Direktorat Geologi, Bandung.
Visser, S., 1922. Inland and Submarine Epicentra of Sumatra and Java Earthquake. Koninklijk Magnatisch en Meteorologisch Observatorium te Batavia, 9, 1-4.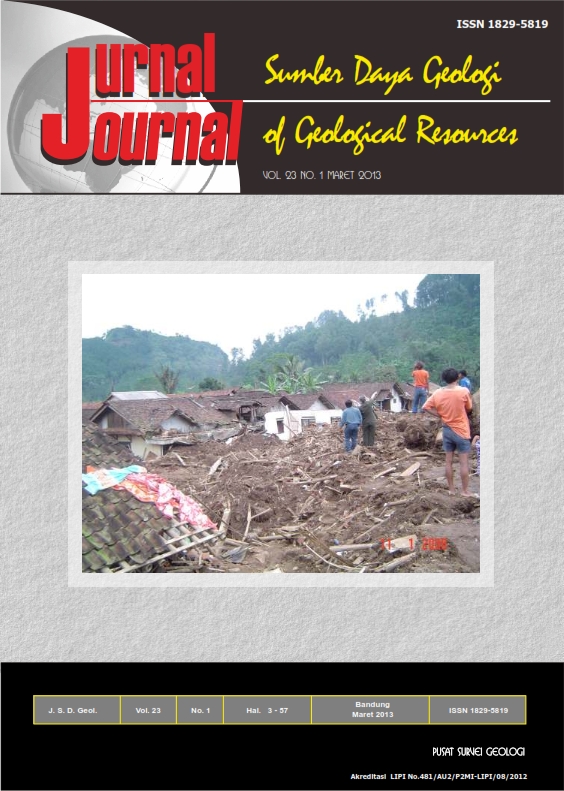 Downloads
License
Authors who publish articles in Jurnal Geologi dan Sumberdaya Mineral (JGSM.Geologi) agree to the following terms:
Authors retain copyright of the article and grant the journal right of first publication with the work simultaneously licensed under a CC-BY-NC or The Creative Commons Attribution–ShareAlike License.
Authors are able to enter into separate, additional contractual arrangements for the non-exclusive distribution of the journal's published version of the work (e.g., post it to an institutional repository or publish it in a book), with an acknowledgment of its initial publication in this journal.
Authors are permitted and encouraged to post their work online (e.g., in institutional repositories or on their website) prior to and during the submission process, as it can lead to productive exchanges, as well as earlier and greater citation of published work (See The Effect of Open Access)